Minimizing complexity. Unlocking agility. Propelling growth.
For many insurance providers, business in the current climate is a constant battle with complex processes, outdated legacy systems, inefficient working, ever-tightening legislation, a new breed of uber demanding customers and an influx of agile, digital-born competitors.
But the smart providers are turning to partners who are not only knowledgeable about the sector, but have proven expertise in transformation through emerging technologies. Turn to Coforge, and we'll help you streamline your systems for a better user, and customer experience; improve your agility to react to, even anticipate, customer, and market demands; increase efficiencies, and ensure regulatory compliance. Leaving you to focus on delivering innovation, value, and growth.
Unique solutions to your unique challenges.
Two decades of experience and deep domain expertise within the insurance sector means Coforge is uniquely positioned to gain a rapid understanding of your business, and help you address your specific challenges through technology. Here's how we help drive transformation and growth across your insurance business.
CORE PLATFORM TRANSFORMATION & CONSOLIDATION
Core platform transformation and consolidation has surfaced as a top priority for many P&C and L&A Insurance carriers.
Coforges's experience in Core Platform Modernization and Transformation is an integrated, industry-focused framework and set of services that deliver business outcomes while optimizing costs and providing the latest functions to the business. Including:
Consolidation Strategy, Assessment & roadmap
Core System Implementation Services
Transform & Modernization Services
Duck Creek Platform Upgrade Services
Quality Beyond QA Services
Decommissioning & Version Upgrades
PAS Conversion & Transformation (PACT) framework
PAS Consolidation & Implementation
INSURANCE COMPLIANCE AND SECURITY SOLUTIONS
The increased focus on embracing newer client interaction models through digital channels and being nimble to adopt new business models means that strong cybersecurity compliance and discipline are now important more than ever!.
Coforge helps businesses prepare, protect, detect, respond, and recover along all points of the security lifecycle – creating a holistic, secure footprint for an everevolving digital economy. Our clients benefit from:
Integrated compliance and security solutions
Cohesive security environment
Ready-to-install processes for quick
Real-time preventive and detective response capabilities
Coforge is your trusted catalyst that forges resiliency, integrity, and intimacy between insurers and their clients.
DIGITAL INSURANCE EXPERIENCE
Over 50% of insurers are planning on replacing or enhancing their portal capabilities. Where are you in the race to achieving digital efficiency?.
Portal technologies enable digital distribution & collaboration with Agent Portals, Broker Portals, and Underwriter Workbench. Coforge's Insurance Digital Portal services help Insurers achieve the goal of ease of distribution and increasing underwriter efficiency while providing intuitive experiences based on the different user personas and their journeys.
NEXT GEN ASM FOR INSURANCE CARRIERS
70% of global insurance businesses still run on legacy applications, especially mainframe applications. Are you among the organizations dealing with operational inefficiency and high IT costs?.
Coforge's mantra of "Intersect with Emerging" paves the way for an innovative solution for application support and maintenance.
We call it - NextGen ASM. Ready-to-deploy repository of smart and cost-effective accelerators to reduce cost.
Latest RPA and AI-based solutions to accelerate your cost optimization efforts.
Optimize knowledge resource and expertise allocation.
Reshape IT budgets
LEGACY RELIEF FOR L&A CARRIERS
Every insurance organization's legacy system pose unique modernization challenges. With 15 years of domain experience, Coforge understands the modernization programs for L&A carriers.
To ensure smooth transformation journey, Coforge's Legacy Relief services offer:
Innovation programs for insurers of all sizes
A Consolidated Strategy for the transformation journey
Support and engagement at each stage of transformation lifecycle
Help build a customer-focused future-ready insurance landscape
ONE INSURANCE
Whether it is to gain a competitive advantage or to enter a new market, Mergers and Acquisitions (M&A) are a strategic growth avenue for any insurance carrier. An inevitable consequence of this inorganic growth is a disproportionate increase in the number of core insurance systems, data, and applications.
Coforge's One Insurance Offerings is the swiss army knife for insurance carriers in navigating the integration challenges of an aggressive M&A strategy or working seamlessly with a complex web of vendors and services. Be it our seasoned enterprise architects who will help you pick the best integration patterns based on your specific circumstances or our cadre of system professionals with deep expertise covering the full spectrum of market-leading insurance platforms to niche vendor offerings, Coforge's services will provide you with the crucial edge over your competition.
QA IN A BOX INSURERS
Customers' expectations in today's world are not just Quality Assurance, but Quality Engineering which is building quality from the foundation itself.
Adopting shift-left practices, Coforge delivers QA-in-a-Box – a complete quality engineering solution across the Insurance industry, sub-domains, and platforms. Right from program inception to product support, QA-In-A Box Services provides:
Reduction of Cost of Quality to the customer
Testing New Product Rollouts and Revisions across all platforms
Integrating quality into systems from the inception stage
Digital Testing services in the areas of user experience, Cloud, Mobile, API, Micro-services, Data & Analytics
Testing of Commercial off-the Shelf (COTS) Insurance platforms such as Duck Creek, Wynsure, and other market dominant L&A platforms
Testing tools, accelerators, and AI/ML-based solutions for Quality Assurance
Test Automation services & Nonfunctional requirement (NFR) testing, including Performance & Security testing
Setup & services leading to the formation of Testing Center of Excellence
JOURNEY TO CLOUD
In a world where technology is becoming an enabler for business growth, cloud is truly transforming the way carriers can take advantage of as-a-service models to innovate. Cloud, combined with Coforge's digital portfolio of capabilities, can serve the full spectrum of your business and delivery channels.
Coforge's Journey to Cloud is an integrated, industry-focused, application and infrastructure enabled set of services that helps Insurers move their businesses swiftly and safely to the cloud. Our solutions integrate at every stage of the 360-customer lifecycle and accelerate your cloud transformation through robust industry frameworks and proven methodologies across public, private, and hybrid cloud solutions. We provide:
Cloud Strategy, Assessment & Roadmap Services
Core Systems –Transform & Modernization Services
Cloud Transformation & Migration Services
Cloud Management & Optimization Services
Coforge: Transformation Leader in Insurance
The fast-changing Insurance sector calls for innovation partners who understand your business, provide customized solutions, and leverage new technologies, and methodologies for the benefit of your business and its customers. With 20 years of experience delivering up-to-the-minute, robust solutions, platforms and applications, we create business value through technology for 100+ Insurance carriers in P&C, L&A and Specialty insurance space.
We're not only renowned for our expertise, but for our highly personal approach. Every customer is different and every challenge is unique, but we apply the same rigor to every partnership and every project. Together we'll help you leverage emerging technologies to create a smarter, more agile, thriving business that delivers exceptional experiences, and innovative new revenue opportunities, seamlessly and profitably.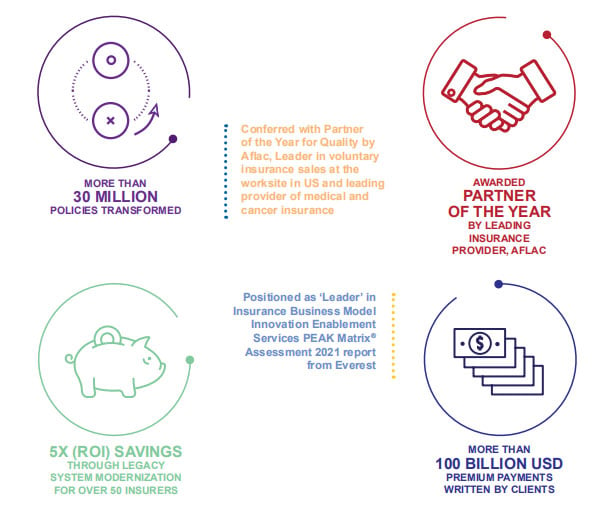 Our offering. Your solution.
Below are some of the specialist services and state-of-the art solutions through which Coforge helps you deliver next generation personalized experiences and drive business growth. Engage with the emerging and deliver innovation, differentiation, automation, and value. Engage with Coforge.
PROPERTY & CASUALTY
Helping P&C players modernize business models, streamline processes and cut costs with:
Duck Creek Technologies Certified delivery partner for upgrade and full suite.
Digital Services Improving experiences with intelligent automation.
Digital Process Transformation Pega based workflow and BPM.
Enterprise integration Experts in microservices, API integration.
CASE STUDY:
Smooth DCT Implementation for a Top US P&C carrier Coforge implemented Duck Creek PAS platform and achieved:
Increased savings – via right-time deployment of right-skilled resources.
More reliability – On-schedule new business delivery for both personal and commercial, and renewal business for personal lines.
Improved productivity – Continuous internal training boosted employee productivity levels.
LIFE, ANNUITIES, RETIREMENT & SUPPLEMENTAL
Effecting digital transformation in the L&A space, while ensuring compliance and improved experiences:
Core business administration Most modern and legacy applications and platforms in use by this industry globally
Conversion Factory Migrating to modern platforms
Platform Expertise Renowned for our legacy and modern platform expertise.
CASE STUDY:
Consolidating Multiple PAS Systems for a Fortune 500 Insurance Provider
Coforge helped the client consolidate six (legacy/non legacy) systems into a single PAS application and converted over 5 million policies on deadline. The result:
More Efficiency – 40% increase inapplication performance and availability.
Greater Accuracy – Conversion accuracy of 99.9% using automated conversion tools.
Improved productivity – Both operating and maintenance costs were reduced.
LLOYDS & LONDON MARKET
AdvantageGo is the innovative commercial insurance and reinsurance product family from Coforge. It enables insurers and reinsurers around the world to fuse the traditional with digital, helping them to rapidly adapt, drive change, and succeed with agile software and Microservices:
AdvantageGo Revolutionizing insurance software with real time data and insights for better informed decisions.
Innovative commercial and reinsurance product suite Navigator, Exact and Acumen deliver agility, and innovation.
Pioneering Microservices Cut costs, mitigate risks, and achieve more with insightful, curated, real-time intelligence.
CASE STUDY:
Canopius strategic underwriting platform
The global implementation of Navigator successfully delivered an underwriting and claims platform on budget and within the agreed timelines
Speed of access – linked document management and storage.
Full integration – for analytics, reporting and end-to-end financial ledger systems.
Transforming At The Intersect
Legacy modernization for leading provider of retirement products
A legacy platform brought high maintenance and support cost challenges, coupled with long product times to market. Coforge made architecture level enhancements to enable the client greater agility, and to handle future generation investment.
RESULTS
30% reduction in maintenance costs.
15-20% improvement in product time to market.
Improved returns due to diversified risk and competitive edge over other retirement products providers.
Premium prediction for award-winning P&C carrier
Using a combination of the right platform and a deep understanding of the client's historic data, Coforge introduced predictive modelling and Data Lake solutions to predict premiums.
RESULTS
Improved time-to market for large supplemental insurer
Coforge simplified the insurer's complex multiple application and product landscape via digital integration using a microservices based architecture
RESULTS
30% faster time to market projected.
Successful landscape simplification.
Improved product stability
Legacy modernization for leading provider of retirement products
A legacy platform brought high maintenance and support cost challenges, coupled with long product times to market. Coforge made architecture level enhancements to enable the client greater agility, and to handle future generation investment.
RESULTS
Improved upsell/cross sell opportunities due to more streamlined data capture.
Enhanced underwriting abilities through reduced claim and loss ratios, and improved margins, using real-time data analytics.
Improved customer loyalty through improved risk mitigation.
Premium prediction for awardwinning P&C carrier
Using a combination of the right platform and a deep understanding of the client's historic data, Coforge introduced predictive modelling and Data Lake solutions to predict premiums.
RESULTS
30% improvement in loss ratio.
66% reduction in quotation times.
Improved customer loyalty through improved risk mitigation (from 15 minutes to just 1 minute).
300% increase in homeowner quotes.
6-fold increase in new business volume stability