Secure Adaptive Fortified Endpoints

With today's changed working environment and hybrid working methods, usage of different device types has become common, and this has added more risks.
Digital workplace is compromised through Ransomware, malware, phishing, lack of data loss prevention, obsolete patches & virus signatures, lack of appropriate access management, and slow incident management.
Users with malicious intent are well equipped with different ways and tools to exploit the environment and create security breach situations.
Workplace security covers aspects of various methods, technologies, and processes to help protect the confidentiality, integrity, and availability of computer systems, networks, and data, against cyber-attacks or unauthorized access.
Coforge SAFE offering for workplace security helps in delivering optimized security with right enablement.
The SAFE platform entails protecting end-user devices from unauthorized access, protecting the endpoints from malicious attacks, providing faster response to security incidents, and creating an environment of trust.
SAFE framework and platform is built on the "prevention first" approach with multilayered security, faster recovery, and unified compliance and management to deliver a zero-trust architecture to our customers.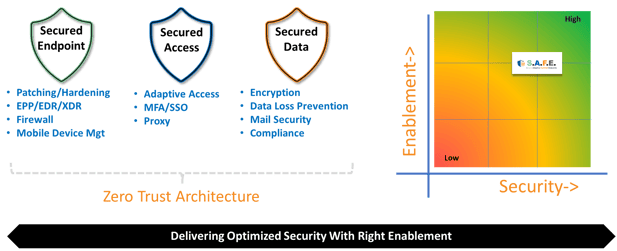 Features of SAFE platform include:
Proactive threat management
Zero-day attack protection
Advanced security features
Reduction of human errors
Minimization of attacks & data loss
Regulatory compliance
Based on NIST framework, SAFE integrates protection technologies at each layer and collects information from a breadth of sources to help eliminate distributed management and administration. The framework helps in protecting business users with the right amount of role-based security and right degree of enablement for each role.
Secure endpoints powered by real-time security intelligence provide better threat prevention with a centralized view of endpoint and related data security.
Why Us
SAFE gives our customers a comprehensive view of their endpoint threat landscape while helping them with the following functionalities based on Zero Trust Principles:
Secure Endpoints: Includes patching, hardening, advanced malware/virus protection, Anti APT, firewall and protection from social engineering attacks such as phishing
Secure Access: Least Privilege based identity and access management
Protected Data: Encryption, safer browsing, DLP & Email protection
Advanced Endpoint Handling: Help in zero-day threat, zero trust
Increase Usability: Policy & control support, vulnerability management, security configurations
Detection & Response: MDR integration & regular support