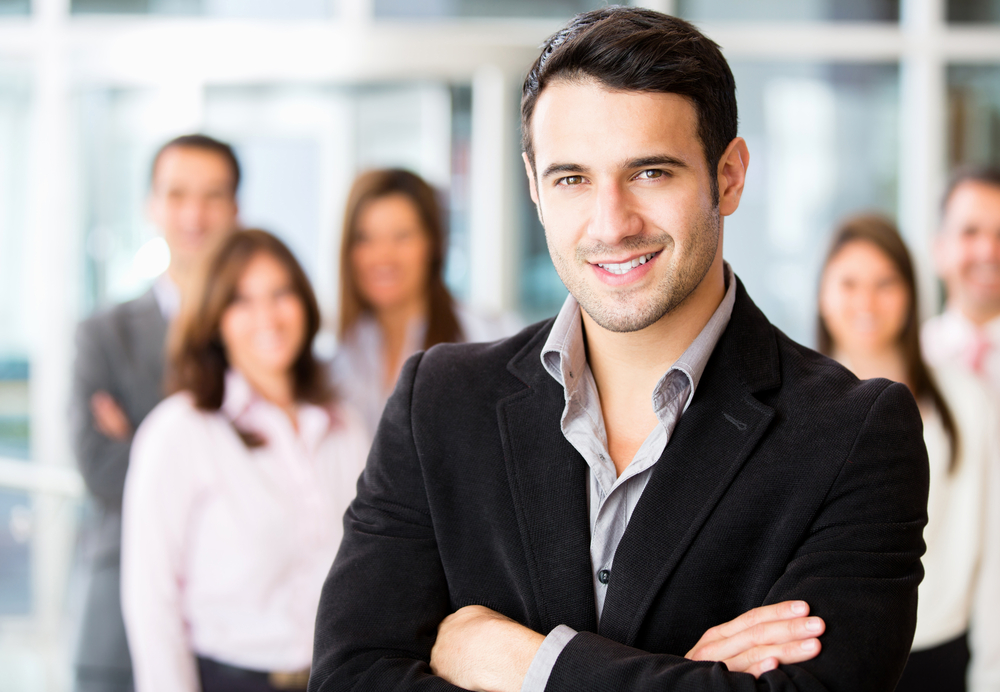 Leader in Low Code Application Services 2021 by NelsonHall
Coforge Recognized as a Leader in Low Code Application Services 2021 by NelsonHall
This is a custom report for Coforge presenting the findings of the NelsonHall NEAT vendor evaluation for Low Code Application Services in the Overall market segment. It contains the NEAT graph of vendor performance, a summary vendor analysis of Coforge for low code application services, and the latest market analysis summary
This NelsonHall Vendor Evaluation & Assessment Tool (NEAT) analyzes the performance of vendors offering low code application services. The NEAT tool allows strategic sourcing managers to assess the capability of vendors across a range of criteria and business situations and identify the best performing vendors overall, and with specific capability around mature platforms and emerging platforms.
Evaluating vendors on both their 'ability to deliver immediate benefit' and their 'ability to meet client future requirements', vendors are identified in one of four categories: Leaders, High Achievers, Innovators, and Major Players.
Vendors evaluated for this NEAT are: Coforge, Expleo, Infosys, LTI, Mphasis, Tech Mahindra, Virtusa, and Yash Technologies.
Further explanation of the NEAT methodology is included at the end of the report.
NEAT Evaluation: Low Code Application Services(Overall)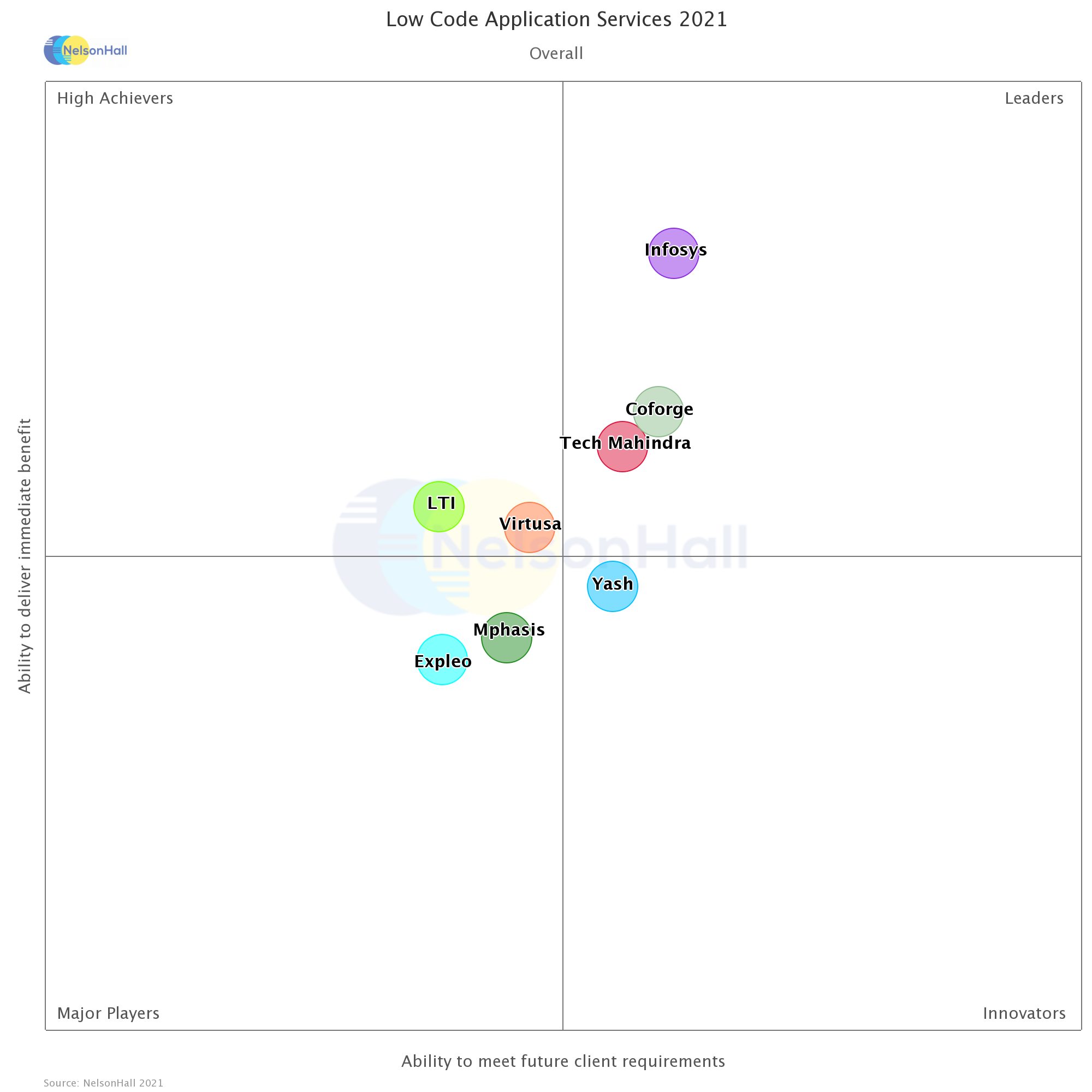 NelsonHall has identified Coforge as a Leader in the Overall market segment, as shown in the NEAT graph. This market segment reflects Coforge's overall ability to meet future client requirements as well as delivering immediate benefits to its low code application services clients.
Leaders are vendors that exhibit both a high capability relative to their peers to deliver immediate benefit and a high capability relative to their peers to meet future client requirements.
Buy-side organizations can access the Low Code Application Services NEAT tool (Overall)here.
Vendor Analysis Summary for Coforge
Overview
Headquartered in Noida, India, Coforge is a provider of software and IT services. Initially part of NIIT (the largest IT training company in India), in 2004, NIIT Tech (renamed Coforge in 2020) was spun off as an independent public company to pursue the IT services industry. In April 2019, Barings Private Equity Asia acquired a majority ownership stake in Coforge from NIIT and other investors.
Coforge delivers services to clients in travel and transportation, banking and financial services, insurance, manufacturing, and media verticals. Its services include application development and maintenance, infrastructure management, and business process management.
The company has supported clients' digital transformation journeys since the early 2000s, and Digital Services was formed as a horizontal business unit in 2015.
Coforge formed its initial low code application services group in 2008 with ~15 employees focused primarily on Pega. It has since expanded this group to focus on other platforms, including Appian, Outsystems, Salesforce, and ServiceNow. A key driver of growth for this group has been acquisitions. These acquisitions include:
In May 2015, Coforge acquired a 51% stake in Incessant Technologies for $17m. At the time, Incessant had ~350 employees, including ~300 consultants across India (HQ and most employees are in Hyderabad), Australia, Canada, U.K., and the U.S., serving ~20 clients and several partnerships, including Pegasystems (the main area of expertise) and Appian. Incessant Technologies provides BPM consulting and automation and integration of back-end systems
In May 2017, Coforge acquired a 55% interest in RuleTek. Headquartered in Meridian, Idaho, RuleTek served customers in the US, with ~65 employees before the acquisition. RuleTek is a BPM architecture services company specializing in providing architectural leadership to Pega BPM projects.
Coforge offers services across the full low code application lifecycle, from advisory through implementation to ongoing management. It has developed pre-configured IP built on Pega and Appian platforms to simplify the adoption of low code platforms.
The company has ~1.5k employees focused on low code platforms, and is aiming to increase the team by ~30% by the end of 2021.
Key application service delivery locations for Coforge include: in the U.S., Princeton, NJ; Augusta and Atlanta GA; and Boise, ID; in EMEA, Telford and London, U.K.; in APAC, Sydney, Bangkok, Manila, Hong Kong, and Singapore. Coforge also has innovation centers to drive new offerings and services located in New Jersey, U.S.; the U.K., Australia, and India.
Coforge estimates it has completed ~400+ low code application services engagements across ~250 clients.
Financials
In the calendar year 2020, Coforge reported ~$610m in revenues. Of this, ~70% (~$426m) was derived from application development and maintenance services. NelsonHall estimates that low code application services revenues account for 15% of Coforge's total CY 2020 ADM revenues (~$64m).
Strengths
Dedicated focus on expanding low code platform capability
Significant investment in a geographically diverse workforce
Depth of Pega experience
Target industries place priority on low code platforms
Challenges
Concentration of experience in Pega and Appian
Citizen developer enablement capabilities and assets are still being refined.
Strategic Direction
Coforge has defined a strategy to grow its low code application services practice by investing in its capabilities across the following areas:
Developing proprietary solutions and accelerators
Focusing on enabling citizen developers
Transforming employee skill base
Outlook
Coforge has placed significant priority and investment in low code application services. This means it has broad, mature capabilities to draw on, including a broad, experienced workforce, refined methodology, proprietary assets, and accelerators. Its experience and focus to date, however, has been highly concentrated in Pega and Appian, particularly in Pega. With a nascent partnership with Outsystems and growing Salesforce and ServiceNow practices, it will improve its positioning through a broader set of experiences.
The company has a corporate focus on a refined set of industries that align closely with the biggest adopters of low code applications (particularly insurance and financial services), which has helped drive its focus on these services as well as the development of industry-tailored assets that further accelerate the value for which clients look to low code platforms.
Coforge's full lifecycle services include broad advisory services to ensure a structured adoption of low code platforms. As clients increasingly look to build an internal citizen developer capability, Coforge is expanding its capabilities in support of enabling its clients' citizen developer capabilities. Continuing to invest in these capabilities and broadening the portfolio of supporting reusable assets ensures that Coforge has the full breadth of necessary services to address all client needs.
Low Code Application Services Market Summary
Overview
Low code platforms still represent a relatively small minority of application landscapes globally. However, as platforms mature and the universe of low code offerings expands, we expect low code application services to grow significantly faster than the overall application services market
The value being realized by companies through the implementation of low code application platforms ranges from basic IT cost reduction (through faster application time to market and reduced IT operating cost) to improved business efficiencies through the elimination of activities and automation of other tasks.
Low code platforms have evolved and expanded their capabilities to broaden their functionality and potential client base from tools to accelerated application development capabilities, to automating business processes.
Looking forward, these platforms are poised to evolve in two ways. The first is greater simplification (i.e. shift from low to no-code development) and the second is broader scope of services, moving from spot low code solutions to integrated enterprise-wide functionality.
The delivery capabilities required include both technical capabilities to understand how to apply low code platforms to business challenges, proprietary assets that minimize the development time for clients, vendors' own proprietary low code offerings, and non-technical skills to enable clients to build a citizen development capability.
To deliver these services, IT services vendors are investing heavily in their low code application services capabilities. These investments are frequently focused in four main areas:
Growing low code skilled workforce
Expanding the portfolio of proprietary offerings and assets
Building positioning for low code's evolution
Expanding non-technical supporting capabilities.
Buy-Side Dynamics
To date, companies implementing low code platforms have placed the greatest weight on the applications' ability to increase the delivery of application services.
Today, the ability to deliver innovations, adapt to changing demands and increase satisfaction is of lesser importance, though we expect that to change going forward.
The ability of vendors to deliver on these benefits is mixed, with NelsonHall research indicating that between a half and two-thirds of vendors are failing to satisfy their clients' expectations.
Market Size & Growth
The market for low code application services in 2020 was worth $24.5bn, and is set to grow ~22% CAAGR to reach $67.0bn by 2025.
While overall application services shows steady low single-digit growth, the market for low code application services is projected to grow significantly faster, driven by rising demand for Salesforce, increased maturity of low code platforms, expanding functional scope addressed by low code platforms, and the universe of low code and no-code platforms continuing to broaden.
Success Factors & Challenges
The key success factors for low code application services vendors include:
Proprietary delivery assets
Structured and dedicated market analysis
Broad and deep partner ecosystem
Pre-configured business applications
Citizen development enablement capability.
Key Challenges include:
While enabling business-side employees to develop their own applications using low code platforms provides significant incremental value, it can result in unstructured application proliferation and increased cost
The universe of low code platforms is growing rapidly with new vendors offering differentiated capabilities such as no-code platforms and offerings tailored to specific use cases. Vendors can be challenged to maintain visibility of the breadth of offerings available in the market.
Outlook
Approach and objectives:
Low code platforms will increasingly minimize coding required, to become no-code or AIassisted
Scope of functionality is expanding from specific niche business functions to broader core enterprise business functions
Business process and workflow automations will come pre-configured to address specific industry functions
Low code platforms will form the foundation for a broad cross-section of application landscapes
Increasingly, service vendors are only utilized for initial implementation before handing off to an internal citizen developer organization.
Benefits:
The application landscape will be significantly modernized and rationalized to reduce cost and complexity of support
Common low-code foundations will be at the core of the enterprise, operated by the business to enable rapid reaction to changing business contexts.
Delivery model:
Pre-configured low or no-code platforms tailored to the needs of the enterprise will be implemented complete with pre-defined industry-specific process applications
Professional developers will be limited to building interfaces to the legacy environment
Vendors will help clients build citizen development COEs which own the ongoing management and operation of the platform.
NEAT Methodology for Low Code Application Services
NelsonHall's (vendor) Evaluation & Assessment Tool (NEAT) is a method by which strategic sourcing managers can evaluate outsourcing vendors and is part of NelsonHall's Speed-toSource initiative. The NEAT tool sits at the front-end of the vendor screening process and consists of a two-axis model: assessing vendors against their 'ability to deliver immediate benefit' to buy-side organizations and their 'ability to meet client future requirements'. The latter axis is a pragmatic assessment of the vendor's ability to take clients on an innovation journey over the lifetime of their next contract
The 'ability to deliver immediate benefit' assessment is based on the criteria shown in Exhibit 1, typically reflecting the current maturity of the vendor's offerings, delivery capability, benefits achievement on behalf of clients, and customer presence.
The 'ability to meet client future requirements' assessment is based on the criteria shown in Exhibit 2, and provides a measure of the extent to which the supplier is well-positioned to support the customer journey over the life of a contract. This includes criteria such as the level of partnership established with clients, the mechanisms in place to drive innovation, the level of investment in the service, and the financial stability of the vendor.
The vendors covered in NelsonHall NEAT projects are typically the leaders in their fields. However, within this context, the categorization of vendors within NelsonHall NEAT projects is as follows:
Leaders: vendors that exhibit both a high capability relative to their peers to deliver immediate benefit and a high capability relative to their peers to meet future client requirements
High Achievers: vendors that exhibit a high capability relative to their peers to deliver immediate benefit but have scope to enhance their ability to meet future client requirements
Innovators: vendors that exhibit a high capability relative to their peers to meet future client requirements but have scope to enhance their ability to deliver immediate benefit
Major Players: other significant vendors for this service type
The scoring of the vendors is based on a combination of analyst assessment, principally around measurements of the ability to deliver immediate benefit; and feedback from interviewing of vendor clients, principally in support of measurements of levels of partnership and ability to meet future client requirements.
Note that, to ensure maximum value to buy-side users (typically strategic sourcing managers), vendor participation in NelsonHall NEAT evaluations is free of charge and all key vendors are invited to participate at the outset of the project.
For media queries please contact:
Santanu Bhattacharya
PR & Communications, Coforge
Coforge Ltd.
Santanu.B@coforge.com