Next-Gen Application Support
Today, 70% of the insurance industry's businesses still run on legacy applications. These systems are often mainframe applications and are critical to the functioning of processes within an enterprise. Most organizations have cited operational cost and an aging workforce as the main reasons for reticence in upgrading their legacy mainframe applications. Most enterprises primarily focus their budgets on system maintenance and management. Operational inefficiency caused by increased spending on support and maintenance forces businesses to be frugal with funds in "keeping the lights on" and not on "growing the business". The problem with budget allocation in business growth is often compounded by increasing costs year-on-year as the industry workforce continues to age.
Coforge has over two decades of experience in legacy applications. Our mantra "Intersect with Emerging" paves the way for insurance carriers to adopt innovative solutions for application support and maintenance. We call these solutions 'NextGen ASM'. Coforge is placed perfectly to deploy repositories of smart and cost-effective accelerators to minimize costs. Our accelerators armed with the latest RPA and AI-based solutions coupled with strong technical and domain knowledge can help carriers optimize their allocation of resources and expertise.
Coforge's NextGen ASM is set to accelerate cost optimization efforts for insurance carriers and help them focus their budgets on growing and transforming their businesses.
NextGen ASM Offerings:
Coforge's NextGen ASM integrates application support and maintenance as an end-to-end Managed Service for insurers and provides the following offerings:
Coforge's NextGen ASM integrates application support and maintenance as an end-to-end Managed Service for insurers and provides the following offerings:
Application Maintenance and Enhancement
Legacy Data Management
Legacy Data Management
Expected Business Outcomes:
Speed to Market:

Automation-driven approach results in a faster release cycle
Delivery Excellence: 'STARS' (Systematic Transition and Reliable Support) framework is leveraged for consistent delivery excellence through reduced cost
Creating a Bridge Between IT and Business:

Industry-focused techno functional expertise that helps translate IT investments into end-consumer experience improvement
Business Availability:

Ensuring continuous core system availability through smart monitoring and automation alerts
Operational Cost Optimization:

Helping customers with cost optimization and redirect the 'RUN' savings to 'GROW and TRANSFORM'
NextGen ASM
Our NextGen Application Support and Maintenance Framework is as shown below.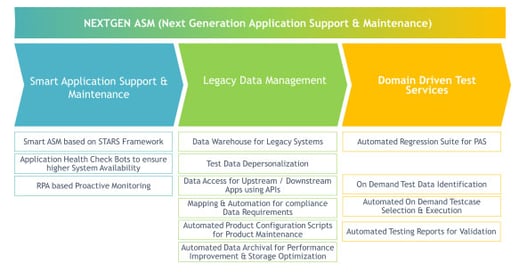 Systematic Transition and Reliable Support (STARS) Framework
The Coforge team has developed the 'STARS' framework to help insurance carriers reduce their support and maintenance costs for running legacy applications.
NextGen ASM – Health Check Bot Application
The Health Check Bot application defines a set of rules mapped to various performance parameters. This is done to collect application performance metrics. Our bot monitors application performance and provides real time alerts on performance prior to the occurrence of an actual outage. The bot keeps the application environment attune to run flawlessly. Once all rules and actions are in place, the bot provides alerts when an application begins to experience performance issues.
How It Works?
The bot smartly monitors critical batch jobs and provides alerts whenever there are batch cycle delays that could impact SLAs. At the same time, the bot also collects metrics for performance tuning and ensures timely online business availability of PAS by performing online validations daily before the start of business.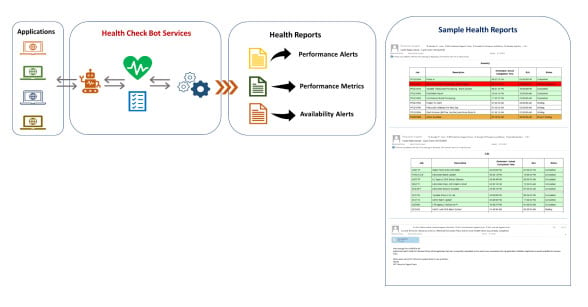 NextGen ASM – intelli-KEDB Tool
Our AI / ML-based intelli-KEDB (error database) tool receives outage alerts and locates the best-fit resolution for the outage. This is done based on the input information derived from the outage. The top three best fit resolutions (with % match) are sent to operations or on-call teams to apply the fix for recovery of outage or batch abends.
How It Works?
The KEDB is segregated by applications containing the structured data for several years grouped by job names, transaction details, error codes etc.. and the corresponding resolution and success rate of recovery. intelli-KEDB performs monthly analysis and sends recommendations to IT support teams to open problem analysis tickets so that a permanent fix can be found for recurring issues.
In standard cases (100% match), resolution is automatically applied by intelli-KEDB and the system is automatically recovered from outage / batch abends. Within a year of implementation, 20 – 30% cases are resolved without manual intervention. As the KEDB database gets more enriched with metrics and data, the accuracy of resolution gets better.

Leveraging Agility for Customer Success with DevOps in Insurance
Cloud, Digital Security, Data, and a connected ecosystem sit at the heart of the insurance industry transformation. This transformation is intended to bring in better cost and operational efficiency, enhanced customer experience, and faster time-to-market. In order to meet these challenges, the insurance carriers must look to break silos and have development, quality, security, and operations teams work together with a singular focus on integrating processes, infusing automation, and increasing collaboration at every stage.
Coforge Benefits
Coforge provides the following benefits for carriers who adopt our models
React flexibly to changing market feedback
Create a collaborative culture
Develop a lean governance model
Enable companies to deliver applications faster and more reliably
Agile and DevOps in Insurance Offerings
Coforge offers the following Agile DevOps solutions for insurance carriers
DevSecTestOps Platform
Global Agile
Duck Creek Continuous Delivery Platform
DevOps for Legacy Platforms
MicroServices Transformation and Service Virtualization
Expected Business Outcomes:
Faster Time-to-Market:

Improved deployment frequency, fast recovery, and short time between fixes
Increased Operational Efficiency:

Better predictability, high maintainability, and increased security
Shift Left Culture:

Early issue detection, continuous feedback, and delivery
Integrated Toolset:

Break silos between development, quality, security, and operations team
Reduce Overall Costs:

Inculcating agile operations and reduced cost of applications
Agile and DevOps Offerings
DevSecTestOps (Across App Lifecycle)
Automated end-to-end flow for moving application changes seamlessly from planning to production
Drive agility and faster time-to-market for application functionality to customers
Virtualize the environment and dependent applications to expedite application testing
Single Configuration Management Database (CMDB) to version artefacts across ALM thereby syncing environments and source code
Global Agile (Speed, Scale, Certainty)
Value over effort
Product ownership over on-site customers
Continuous delivery over continuous integration
Agile-in-a-box strategy over an exploratory start
Maturity Assessment (Getting Started)
Evaluation and assessment of client landscape as per 9 Coforge DevOps Principles
Creation of future roadmap and strategy
Coforge Accelerators and Frameworks
Duck Creek Continuous Delivery Platform:
Duck Creek is an insurance software solution that handles claims, product definition and rating, policy administration, underwriting, and billing applications
Our platform integrates Duck Creek and continuous delivery. This is done to ensure changes of all types including new features, configuration changes and bug fixes are turned into production or into the hands of users safely and quickly in a sustainable way
DevOps for Legacy Platforms:
DevOps on AS400 leverages DevOps frameworks in conjunction with ARCAD tool stack to design an automated pipeline for IBMi and Life Asia platforms
It further integrates Atlassian, Open Source, and ARCAD stack in-line with our DevOps framework using best practices of DevOps on AS400
It further integrates Atlassian, Open Source, and ARCAD stack in-line with our DevOps framework using best practices of DevOps on AS400
MicroServices Transformation:
MicroServices can be leveraged to structure the enterprise architecture such that multiple autonomous service units are enabled to garner better business value
We have executed multiple success stories for MicroService transformation in key domains globally
Service Virtualization:
The service virtualization capability captures and simulates behaviour, data, and performance characteristics of unavailable systems for unconstrained use by the development and testing teams throughout the software development lifecycle
Coforge's capability of providing innovative service virtualization solutions ensures faster delivery and high quality as well as reliability of software at lower infrastructure costs