Journey to Cloud
Many industries have successfully leveraged cloud technology in their digital transformation efforts. Cloud computing has proven to be a key differentiator in transforming many sectors with its faster time-to-market, cost reduction, ease of deployment, and scalability. Today, tangible success comes from enterprises being amenable to experiment, adapt, analyze, and collaborate at speed. For insurers, these conditions are no different. Emerging technology solutions has put insurers under pressure to reduce time-to-market for new products and services in an increasingly competitive global insurance market. Bigwigs like Amazon, Rakuten, Softbank, and Tencent have heavily invested in the insurance market through emerging disruptors thereby compounding the existing challenges.
In a world where technology has cemented its place as an enabler for business growth, the cloud is transforming the way carriers leverage 'as-a-service' models to drive innovation. Insurers that prioritize speed, to foster business growth and continuous innovation will carry the day. Both Property and Casualty (P&C) and Life Insurers have leveraged the cloud to increase agility, and operating efficiency, and reduce operating costs. There is an emerging trend of insurers viewing the cloud as a critical business asset.
Coforge's 'Journey 2 Cloud' offerings are aimed at providing an integrated, industry-focused, application and infrastructure-enabled set of services that help insurers swiftly move their businesses to the cloud.
Core system transformations have been the primary concern for insurers to move to the cloud. Our deep transformation and integration capabilities, experience with diverse underwriting and policy administration, and industry-leading platforms (both legacy and COTS) will tap into every stage of the customer lifecycle. We provide 360º support through robust industry frameworks and proven methodologies across public, private, and hybrid cloud solutions. This directly improves customer satisfaction and brand loyalty – a true differentiator for today's insurers.
Insurers' Journey 2 Cloud: Coforge Differentiators
Skills Summary, Tools, and Demos
2000+ cloud and infra resources
50% of resources are cloud certified
1-click automated migrations
AIOPS multi-cloud management
Assets and Accelerators
I. Cloud Innovation Factory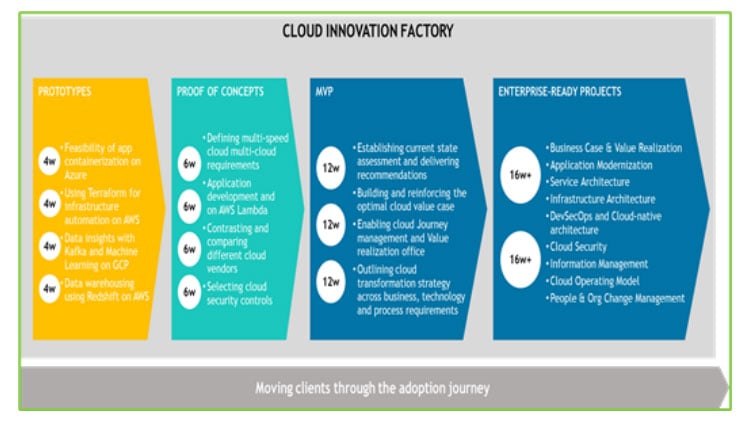 II. Cloud DevSecOps Framework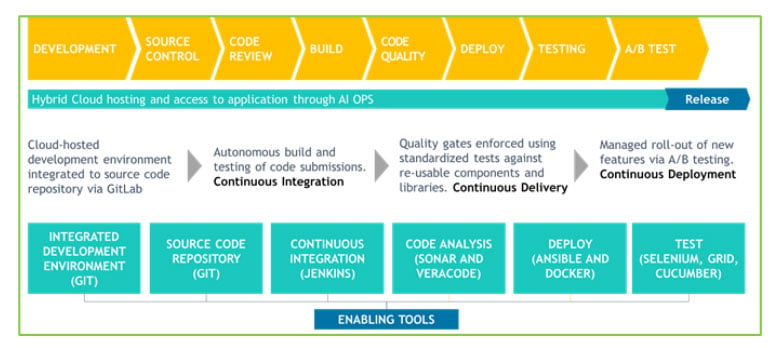 Coforge offers the following L1 services to help enterprises adopt cloud transformation:
Cloud Strategy, Assessment, and Roadmap Services
Core Systems Transformation and Modernization Services
Cloud Transformation and Migration Services
Cloud Management and Optimization Services
Expected Business Outcomes:
Create Your Next Cutting Edge:

Embrace new technologies at 2X speed to develop potentially disruptive ideas
Find Partners to Scale With

Commit to new ideas via APIs with an ecosystem of partners and InsureTech
Disrupt from the Inside Out:

Experience freedom to innovate by scaling core systems in hours and on demand
Strengthen the Link Between IT and Business:

Foster flexibility and standardization in the platform, analytics, data, and ML services
Reduce Overall Cost to Serve:

Realize 25 – 30% savings and the pay-as-you-go model
Our 'Journey to Cloud' Services Framework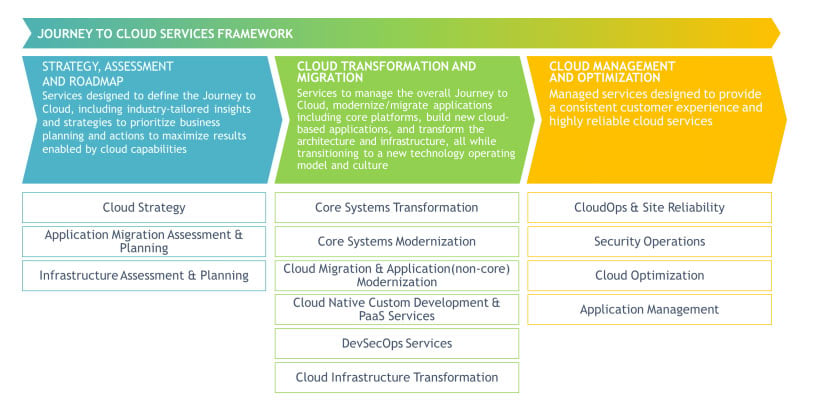 Coforge Partnerships and Alliances

What We Have Done
50000+

workloads migrated
1000+

application transformations