One Cloud Service for Appian
According to Gartner, accelerated by the Covid crisis, the worldwide end-user spending on public cloud services is forecast to grow 18.4% in 2021 to a total of $304.9 billion. Gartner predicts the cloud will become the dominant deployment model across all areas of financial management applications by 2025.
Over the last few years, organizations have been moving operations to the cloud at a steady pace to increase collaboration and productivity. Uncertainty and the likely realities of the 'new normal mean a dramatic rise in businesses charting the course for their journeys toward cloud computing and digital transformation. Companies of all sizes and compositions are now moving towards software and cloud-based solutions to keep productivity levels high.
The Coforge OneCloud service for Appian helps business assess their readiness to migrate to their preferred Appian Cloud offering.
Coforge enables enterprise cloud transformation through our Appian one-stop shop for all related Appian service offerings.
Our specialized services will be augmented by proprietary tools and accelerators, designed for accelerating your Appian cloud journey.
SUPPORTED CLOUD JOURNEYS WITH APPIAN

Coforge Managed Cloud
Private Cloud with both On-premise and Cloud integration
Completely managed by Coforge
Highly secure
Appian Managed Cloud
Provides customers with virtual private Cloud
Primarily supports Amazon Web Services Cloud
Also supports Microsoft Azure and Google Cloud
Customer Managed Cloud
Private Cloud with both on-premise and Cloud integration
Completely or partially managed by the customer
Highly secure
ONECLOUD SERVICE OFFERINGS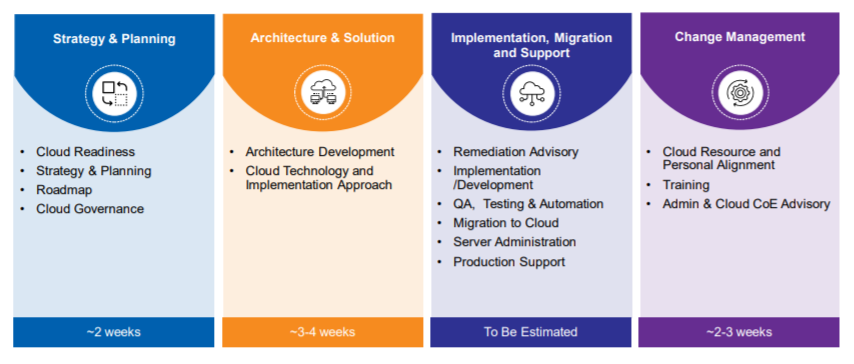 WHY COFORGE ONECLOUD FOR APPIAN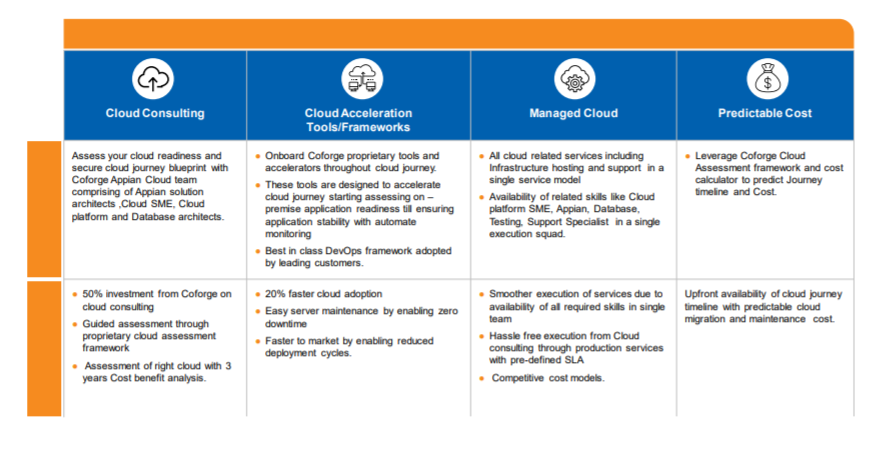 MANAGED CLOUD SERVICE DEFINITIONS AND SLA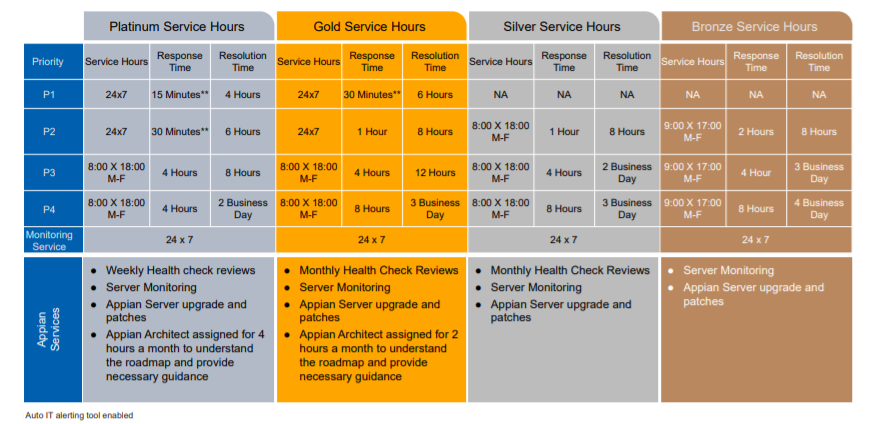 TOOLS & FRAMEWORKS TO ACCELERATE YOUR JOURNEY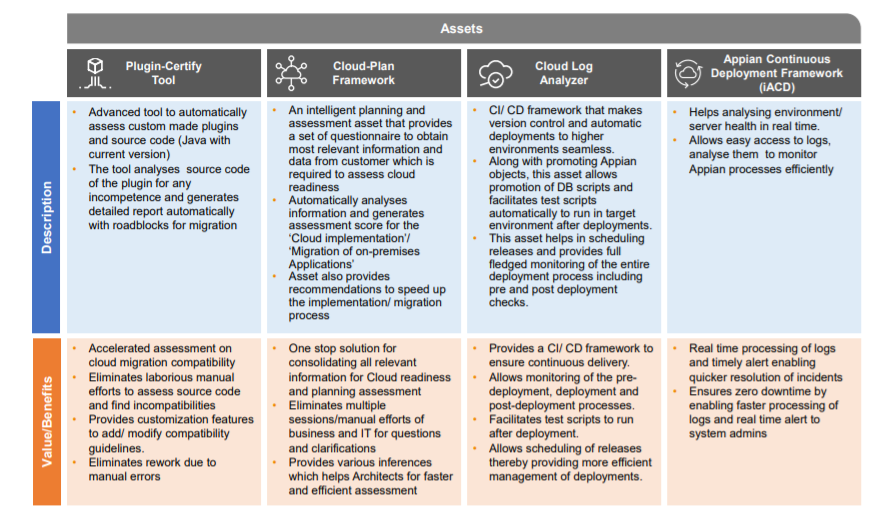 WHY COFORGE?
Build a future-ready enterprise with Coforge's Cloud and Infrastructure Management Services
Coforge combines domain and technology with engineering practices to help you understand, measure, rethink, redefine, evolve, and future-proof your multi-cloud environment. Coforge leverages its in-house accelerators, analytics, automation, hybrid cloud, and AIOps services to realize current trends, and optimize, and transform avenues while improving performance, availability, and resilience. Leveraging our AIOps platform, we empower the 'anywhere enterprise' of the future with:
Service catalog-led policy-based provisioning
Multi-speed operating model
Cloud innovation and migration factory
Organization upskill and engineering culture transformation
Coforge brings thought leadership especially around Data, Cloud, Digital. Coforge helped us implement cloud within 8 months which is very significant. We tend to go with people (Coforge) who acrually understand our business.

- Jim Flink

Chief Administrative Officer

Voya Investment Management
Coforge ranked amongst the top 3 IT service providers in customer satisfaction in Whitelane's 2020 UK IT Sourcing Study ·
Coforge was recognized as a Leader in NelsonHall NEAT Report for Cloud Infrastructure Brokerage, Orchestration, and Management Services