Container Services
Cloud, Kubernetes, and containers are enabling an entirely new way of deploying applications and conducting business. Modern enterprises are rapidly adopting these technologies as core aspects of their growth strategy. As with any new paradigm, there is a steep learning curve lined with unforeseen challenges.
Coforge's container services helps customers at all stages of their Container adoption journey i.e. Container Strategy, design and implementation of container platform, Containerization of applications and running containerized applications securely.
Coforge ensures maximum availability for your mission-critical, cloud-native systems with 24x7 break-fix support, security, rapid onboarding, expert consulting for containers & Kubernetes. We support your organization throughout your cloud-native and container journey, giving you the freedom to deliver differentiated services that delight your customers.
Coforge container services help organizations deliver reliable and secure cloud applications and address the essential use cases of running Kubernetes and containers in multi-cloud production environments.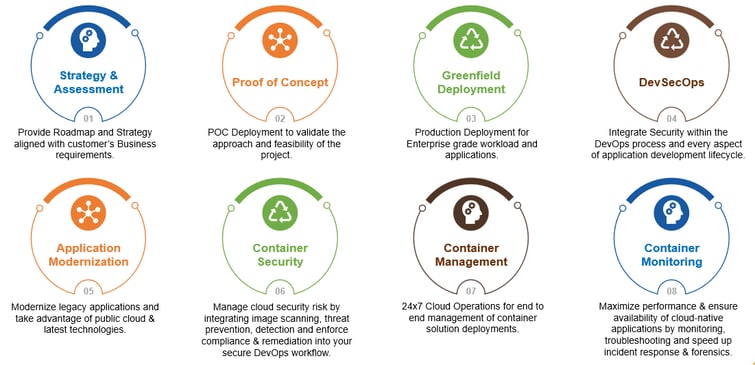 Powered by Sysdig Platform
Coforge's focus is to provide customers with unified visibility across workloads and cloud infrastructure from a single cloud native security and monitoring platform. This solution allows you to get accurate alerts on threats, operational issues and compliance risks and respond using a detailed activity record. It allows you to maximize performance and availability by providing deep visibility and assists in troubleshooting for infrastructure and services.
Coforge and Sysdig have a strategic partnership based on a common value set of enabling customer success in the new multi-cloud environments. With Coforge's Deep Domain Expertise and Cloud, Infrastructure & Application Modernization services backed by Sysdig's security and monitoring prowess, customers can rest assured that a best-in-class solution is being tailored to their unique observability, security, and compliance needs.
Key Benefits
Unified Framework

- Security, compliance and monitoring that gives you deep visibility across workloads and cloud infrastructure from a single platform based on open source projects of Falco and Prometheus.
Accurate alerts

- For threats, operational issues and compliance risks and detailed activity records. Easily plug into your existing workflows with out-of-the-box integrations.
Reduce time to market

- Accelerate cloud-native application delivery by embedding security, compliance, & monitoring into your secure DevOps workflow
Continuously validate compliance

- Benchmark your environment against industry regulations & internal mandates without slowing down application delivery
Manage Security Risk

- Managing security risk by integrating image scanning, real-time threat detection & prevention into your secure DevOps workflow. Speed up incident response & forensics using granular data with Kubernetes & cloud context.