Cloud Advisory
To make the most of Cloud technologies, enterprises need to closely examine which of their apps and services can benefit by migration, have a well-defined Cloud Adaption strategy in place and identify the best suited migration plan that ensures lowest business disruption.
Our Cloud Advisory Services enables you to identify suitable opportunities to leverage Cloud computing services either through an as-is migration to cloud or through a more modernize cloud native adaption route eventually providing sustainable business benefits. We help clients develop a cloud computing strategy, which includes a detailed cost-benefit analysis and a roadmap for enterprise-wide cloud adaption, Migration and Modernization plans. We also help define strategic transformation of processes, technologies, and capabilities to ensure you derive the full benefit of Cloud.
With a highly structured approach to establish the business needs and requirements of the underlying IT infrastructure, our cloud advisory services delivers an adaption roadmap that results in agility, scalability, on time delivery, and reduced cost of Operations.
An overview of our Discovery and Assessment Framework is provided below.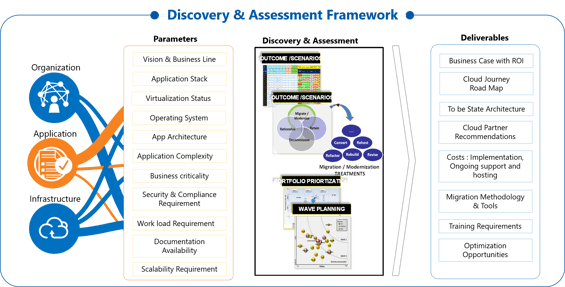 Key Features
Highly automated discovery and instrumentation of existing assets
Business rules to estimate migration roadmap
Technical readiness, organization readiness, and business case development
Cloud and application portfolio assessment framework
Public, private, and hybrid cloud operations framework
Improved speed of cloud implementation with minimized risk