Managed Network Services
Software Defined Managed Network Services driving The Digital Experience
Coforge's Managed Network Services focus on enhancing an organization's experience in the Digital Era through simplifying technical complexities and providing comprehensive support across multi-vendor network infrastructure and devices for LAN, WAN, Wi-Fi, SDN/SD-WAN, and Network Edge services. Our Managed Network Services are underpinned by a highly competent and experienced global workforce and investments in Artificial Intelligence-led Smart Operations Management Platform and tools. These services are followed by a State-of-the-Art Enterprise Network Operations Center (ENOC) providing a 360-degree view of Enterprise IT on a single-pane-of-glass.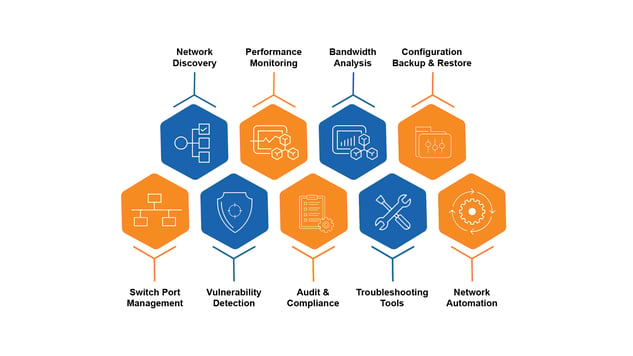 Key Features - Coforge's Managed Network Services
Coforge's Managed Network Services is a comprehensive suite of services that meet all types of organizational needs in delivering uninterruptable network and communication services, complemented by consulting and architectural services towards transformation and future-proofing. Our customizable and flexible service model enables continuous delivery, optimized cost, proactive monitoring, and predictive analytics ensuring unprecedented availability, scalability, and statuary compliances.

360o View of Enterprise IT (Single-Pane-of-Glass)
Unified & integrated platform that provides real-time infrastructure discovery, performance & utilization analysis, tracks the availability and health of network gears ensuring continuous delivery and service reliability on a single-pane-of-glass

Unmatched Availability (Quality of Service)
True "end-to-end" automated configuration of devices and services through service orchestration, capable of rapid testing of network configurations and deployment of standardized network templates for consistency; significantly enhances the time-to-market, productivity, and quality of services.

Proactive Monitoring & Predictive Analytics
Track & correlate alerts and incidents impacting business continuity with data insights across your technology stack. Manage alerts, before they are triggered, with predictive analytics to avoid costly service disruptions and repetitive incidents at scale with IT process automation.

SDN/ NFV
Exploiting Software-Defined Networks (SDN) and Network Function Virtualization (NFV) to intelligently control and administer devices, network paths, and service chain to applications in On-premise, Hosted, Public Cloud, and Hybrid environments.
Key Benefits of Managed Network Services
Coforge's Managed Network Services focus on optimizing service quality for unprecedented availability and reliability through proactive monitoring and predictive analytics. Our Managed Network Services provide flexibility in service structure, including comprehensive support across multi-vendor network gears, through an in-house pool of talented and experienced workforce for 24x7x365 coverage. The services are managed through Smart Automation Platform, offering data-driven automation towards noise suppression, automated remediation, and intelligent routing of unresolved incidents.
Optimized cost of operations
Quality of Services—Availability and Reliability
Access to Network Specialists—Broader technology support spectrum
End-to-End Accountability—Driving technology transformation and future-proofing
Enhanced Network Security—Proactive monitoring and automated remediation