Overview
The emergence of some of the national and regional on insurance solvency and financial reporting creating number of challenges for data management of insurers.
A requirement for more granular level control over data to support compliance and various regulatory requirements, In today's time insurers, generate a huge amount of digital data, insurers also must deal with more demanding customers, customers are more knowledgeable and demand more knowledge about their contracts, products which they want and what they don't want
A combination of regulatory changes, Big data opportunities, and growing consumer expectation has created the need for the insurer to manage and govern data actively, most insurers have started investing more in data management, security, and governance processes, and technologies.
How an Insurer manages and uses its data and derive business insight that is accurate and timely will be critical to the long term success of the insurer
Requirements for meeting IFRS 17 compliance hugely depend on the high quality and accuracy of data.
Insurance Industry and Data
The insurance industry has recognized that data and insight and knowledge are now key to driving business results. Using large warehouses of internal data, augmented with third-party providers, and big data sources, data analysts are driving product R&D and predictive modeling as well as influencing operations and strategy at all levels of the organization.
However, many insurers are dealing with the challenges of multiple legacy systems, little data integration, and limited agreement on what data assets mean. Instead of mining for insights, many insurers are still struggling with basic data quality and completeness issues. To resolve this, carriers need to develop a comprehensive data strategy that looks across the entire organization: at people, process, and technology.
The insurance industry needs to be able to use data analytics to support its critical business decisions –i.e. whether to provide an organization coverage, what types of coverage to underwrite, and what level of premiums to set. Good data is arguably one of the most valuable assets.
Insurance companies hold lots of unstructured documents like agreements, underwriting documents, a different version of such documents, now a days most such documents are in a digital format with a digital signature from the Insured party.
Insurance and new digital business data
As part of innovation from insurance companies, they started having a Robot or AI-driven chatbot providing an initial level of customer interaction, these are all semi and unstructured data, they have lots of details which can help the insurer to offer their service to the customer or satisfy customer data.
In a new digital world, the most consumer buys custom insurance products and services, they are comparing various products from various e-commerce websites or third party portals, if the insurer doesn't have control over their data to provide one version of service and quotation for various products and services, they will lose against their competition.
Many primary Insurers are moving agent-based business model to Direct business with the customer, consumers are using multiple channels to compare products, prices, and services about the insurer and then make a decision about which channel to use for purchasing product
To compete in such a market, the insurer has to maintain one version of truth and offers which are competitive against their competition.
Most (if not all) insurer have also taken a big initiative in their digital and omnichannel to reach out to customers and provide best of services, this initiative also generates lots of new data, e.g. When AI-driven robot-based Chatbots provides services and trying to connect with the customer to initial interaction to provide services or receive any feedback, this generates lots of unstructured data which can be used to understand customer pain areas.
Some insurer have also done POT and POC to use Drones to start inspection services and collect images using drones
Why Data Governance important for Insurer
The bigger question for many insurers is can they trust their organization's data? Is it accurate, consistent, a large enough data set to be relevant, and is it refreshed frequently? The concept of data governance was born to help organizations tackle this very issue.
If you don't focus on Data governance you may be putting your organization at risk by going after unprofitable or risky lines of business in the wrong industry verticals, setting premiums too low or too high, producing inaccurate financial forecasts, or missing out on opportunities to use new data points for future decision making.
Carriers that embark on a data and analytics journey maturity without taking a value-based use case approach having matured Data governance processes have seen limited success, without Data governance they are at risk of not generating the positive profit impact that they expect.
They may even find that their executive sponsorship and funding dry up. There are only three ways to create value within an insurance carrier: sell more, manage risk better, and cost less to operate
That's a tall order for insurance entities that handle marketing, policy, claim, and financial data via multiple proprietary internal and external systems. To further complicate the integration, these systems may or may not document best practices.
Past decisions and dependencies on data may not be known. The programming language may be difficult to interpret. Add to that a lean-and-mean workforce and whew….you need someone to govern this process or you may end up basing your business decisions on questionable data.
Simply put, strong insurance organizations have valued and will value Data governance teams. They rely heavily on the data because they are defining best practices across all these systems.
Data Governance Framework
Every Data governance framework values data as a strategic business asset. Insurers have huge data resources and the traditional data management exercises – tending to rely on internal data with rigid infrastructure – are becoming insufficient in this fast-paced digital era.
Insurers today need a comprehensive strategy for systems, processes, and rules for use of data across the whole organization. There is a trend towards deeper and real-time analytics and better preparation of the data to be better able to answer questions such as: can you access data where and when you need it in the insurance business flow? Do you know if your data is clean, current, and complete?
This means that, as the first step to effective data management, you need to question the data first, pulling it together in many different formats, cleaning and normalizing, before going on to 'do' things with the data.
Data governance should incorporate all IT systems and create decision-making processes that rise above departmental silos and should provide accountability for data quality.
A robust Data governance framework requires:
Enforcement of procedures to ensure data gathered is as per the business needs, if necessary re-shaped, merged, or transformed from multiple data tables
Integration of data from different business units and sources for a unified view of customers, often requiring sharing of meta-data across business domains
Exploration of the available data, as well as new data, to uncover and understand the quality or continuity issues that may exist (by matching or cross-checking across data tables)
Monitoring of data on an ongoing basis to check for enforcement of data rules, identifying any quality issues, and building data quality into existing processes.
There are multiple definition or way of defining Data and Information Governance

Data governance charts three main aspects: rules of engagement, decision rights, and data accountabilities, Defined Process to acquire, manage, define, create, secure, integrate, curate, improve , integrate and deliver Data in organization
Another way of looking Data governance is "Data governance is defined as a control that ensures data entry (by an operations team member or by an automated process), meets precise standards (such as a business rule or a data definition), and applies data integrity constraints"
COFORGE believes that Data Governance is a must initiative for any insurer willing to take control of their data and this is the first step towards creating a culture of Data-driven growth and be a leader in the respective segment Data governance is all about a data management structure to implement the business policies framed under it. Data management functions include data quality, data administration, data warehousing and data analytics. A Data governance framework helps stakeholders within an organisation – from business, IT, data management, compliance, and other departments – to gain clarity of concepts and objectives.
COFORGE's comprehensive Data Governance Framework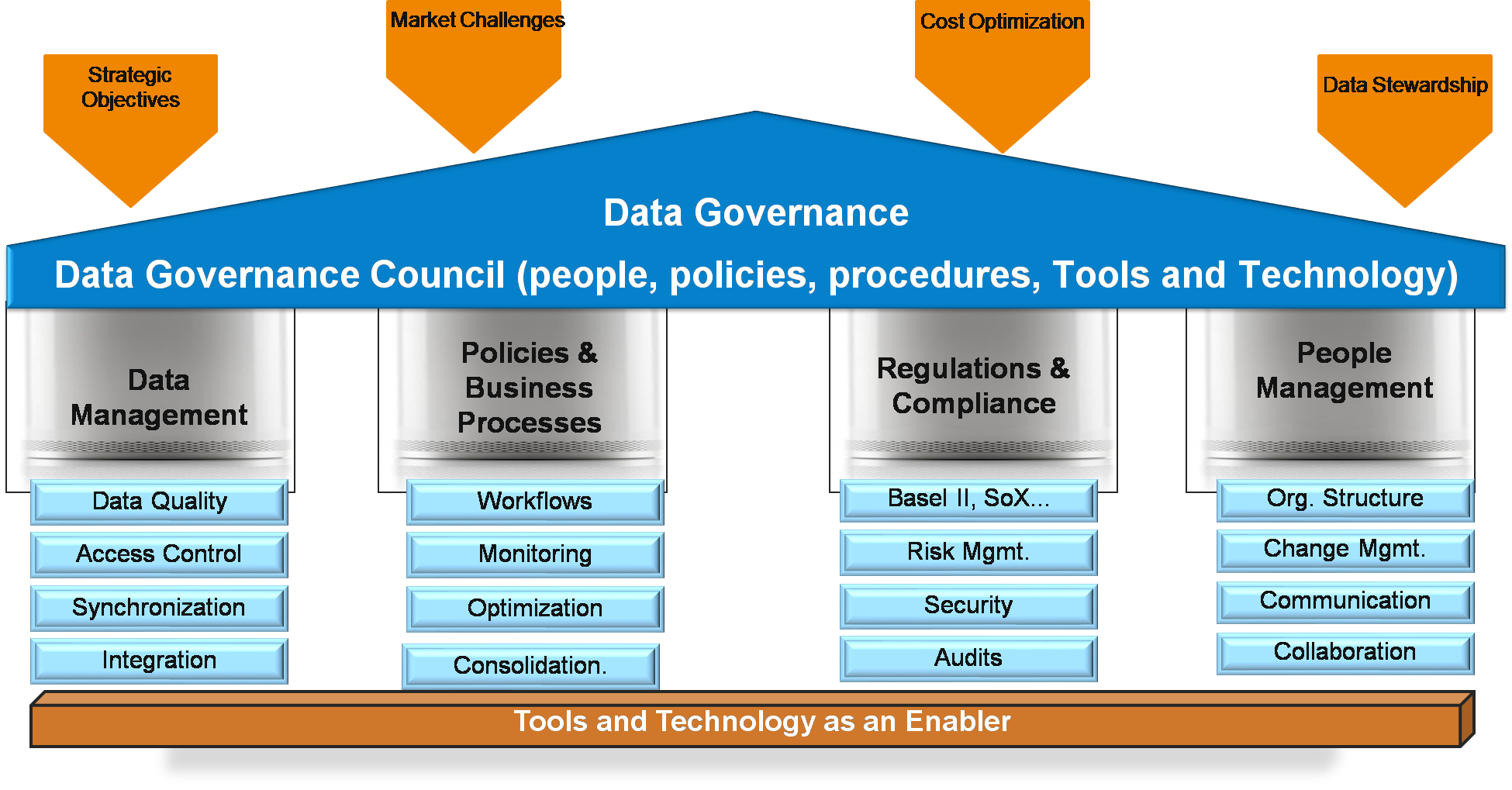 This can be done with the right policies and procedures, structures, roles, and responsibilities within the organisation. Data governance is required to manage data effectively and inject data quality across the organisation. Continued compliance of policies and procedures will improve data quality over the long term.
Steps required to implement a data governance framework
Here are the steps broadly required to be taken to create an effective data governance framework:
Decide the strategy for data use and ensure this is aligned to the business processes (often this involves talking between departments and organizational restructuring that is not traditionally regarded as 'data management')
Define a Data Governance Council, a charter, objectives, goals, and Principles
Create 2 years of Roadmap with achievable goals and control over data
Create a hierarchy for administering the use of data
Put in place an organizational structure and reporting that aligns with data governance
Create a data governance Council, a charter, a communication plan, and enforce data governance policies.
Each organization will be in its own unique situation and may be confronted with distinctive challenges, but these steps would provide a foundation to build an effective data governance framework.
It ensures simplified coordination among people and processes enabled by technology to reap benefits from the value of data. The goal of data governance is to homogenize the work of people and processes to enhance data integrity and quality.
Data governance has attained some new dimensions with digital technologies, providing data insights, and micro-steps with data enrichment that were not possible in the pre-advanced analytics era. It is becoming significant, not just as a point of competitive advantage, but also to ensure compliance in the regulated environment.
Benefits of Active Data Governance for Insurer
A productive and active data governance strategy will improve decision-making, ensuring information is understood, increasing the credibility and trust of data, whilst protecting data sources in the regulated environment. Data governance should support the company's business objectives by:
Managing data as a shared key asset across the organization
Having transparent data governance policies and decisions.
Defines ownership of data from a business perspective as well as a technology perspective
Insurers are generally aware that data is critical for their business, but the importance of data governance has still to hit home, in terms of business culture and terms of systems. A holistic data governance approach can help insurers:
Generate flawless insights that are aligned to the business goals
Promote greater efficiency and cost savings
Meet compliance and regulatory requirements
Reduce operational cost and improve efficiencies
Data governance initiatives invest a lot on their master and core Business entities like Policyholder, party, Insurable object, these are very Key business elements for analysis and reporting point of view
Create a data-driven culture in the organization
Have a common definition of data from Business to technical mapping point of view
Not be overwhelmed by swelling data volumes (simplifying access to traditional and 'new' data sources).
Data also enables new offerings such as providing insurance to automobiles on a per-mile basis.
Better Data and trusted data help Insurers to improve profitability by avoiding the cost and increasing productivity. Although technology often creates operating efficiencies and productivity gains, it can be difficult for IT leaders to get credit for cost savings unless there are actual hard dollar savings through staff cuts. Additionally, most technology investments are not about cost takeout by automating existing processes or practices—they are about deploying new capabilities, which usually means new expenses
The answer to why data governance is critical today is in what Bill Gates suggested, way back in 1999. He said then: "Virtually everything in business today is an undifferentiated commodity, except how a company manages its information, How you manage information determines whether you win or lose". Information is nothing, but insight generated out of well-governed trusted Data
Data governance teams are the unsung heroes who hold the keys to success in their insurance organizations.
Core Initiatives of Data Governance
The different organization have a different level of maturity in areas of Data governance, but below are key initiatives mostly directly initiated by the DG council willing to take control of data at the organization level and make it more trustable assets
Define a Data governance Council with a clear charter, Vision, Objectives, and Principles
Define roles of Data stewards and data custodians
Define various processes for creating, approval for Core entities like (Customer, Policies, Insurable properties)
Define and document Data Management and Data security processes
Technology and Business sponsorship of core business entities to be mastered using MDM and RDM (Reference Data Management) solutions
Business and Technology driven Data Quality improvement, standardization of tools and monitoring process by measurable KPI
Data Privacy and Security related initiatives (sometimes control by DG council, for some org controlled by Chief Security office)
Setting authorization and authentication process for Data, Information and Insight within and outside organization
How Coforge Tech can help achieve this goal
Coforge Tech Data & Analytics service line can help insurers to set up, manage and operate their Data governance framework, our SME and domain expert can prepare a custom roadmap for the data governance framework and help them to set up a Data COE where most of the data related challenges can be managed by a team of Domain-based data analysts under the guidance of thought leaders.
Coforge Tech have comprehensive solutions from consulting to project-based and Managed Data COE to help their client in 3 areas, strategic, Tactical project-based, and Operationalization of Data COE
Strategic: setting up a custom Data governance framework as part of consulting engagement. Coforge team can also provide Roadmap to mature in Data governance initiative
Tactical: Help client run, implement the right set of tools and technology required to implement Data governance initiatives (like Informatica Axon, Collabra, etc.,), COFORGE D&A and Insurance BU can setup a Data COE which will include a team of Data, tools, and Insurance SME who can take ownership of the quality of data from a business context point of view

Operational: Coforge Tech can help the client on operationalization by setting up a managed Data COE as an extension to the client's data governance team, This team can focus on outcome-based engagement to meet Data Governance related measurable KPI by setting up a Data COE for the client or various groups related to client
Contributors:
Hemal Vora - Sr Director, Data & Analytics, Coforge
Hemal Vora is Sr. Data practitioner with more than 22 years of experience from Data management to active Data governance role, He has also worked with multiple BFS and Insurance clients and has done consulting engagements to setup Data Governance Framework for various clients.
Rajan Jindal - Data Governance Head