Product Engineering Consulting
Technology software product firms or Independent Software Vendors (ISVs) need to overcome many challenges like reinventing their products with new business models, increasing time to market, building a solid data, governance & analytics foundation, increasing operational resilience, providing omnichannel experience to their customers, have the right resources to deliver services and engage with emerging technologies like automation, AI & quality engineering to extend their product lifecycle.
Coforge has 2 decades of diverse industry experience in product engineering with over 2000 agile practitioners and technical experts working with ISVs. Our Product Engineering Consulting service helps ISVs recognize and overcome their challenges at every stage of the product lifecycle and accelerate their digital transformation journey. ISVs partner with us to build future-proof digital business architecture leading to improved business agility, enhanced user experience, reduced costs, ability to innovate, and faster time-to-market. We drive for consistent 'Speed', 'Scale', and 'Certainty' with our technical expertise, digital frameworks, assets, and proven methodologies.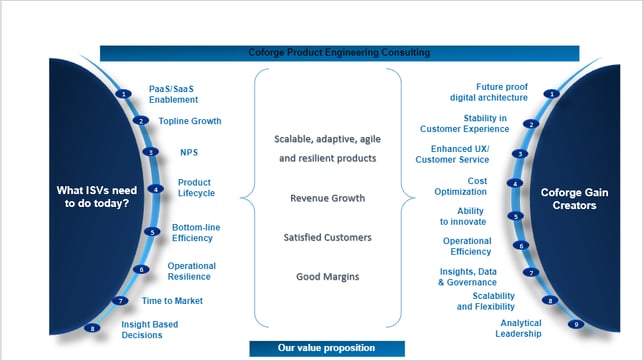 Our assessment-driven consulting engagement enables ISVs to convert their challenges to opportunities by creating a roadmap within 2-4 weeks of engagement with our technical expertise, consulting methodology, IPs, frameworks, and assets to focus and deliver on the different needs of ISVs. We will:
Rapidly assess your organization's current capabilities, and identify gaps and new capabilities required to become digitally proficient using our

digital and cloud frameworks
Reduce your release cycle by creating a customized

quality engineering strategy and design, setting up a Testing-Centre-of-Excellence, or leveraging our expertise to perform end-to-end testing across multiple devices
Achieve insight-driven decision-making by strengthening your business with advanced analytical capabilities by leveraging our

Data Monetize Studio
Achieve optimum service delivery using our proprietary framework for

process re-engineering, automation, and RPA by employing Six-Sigma and Lean methodology along with domain expertise
Bring in operational resilience using

VirtSpace – enabling virtual workplaces with zero disruption in business continuity