iEval Framework
With numerous API Integration solutions existing in the market, it can be a challenge to pick the right solution suited for a specific business environment. Businesses grapple with this challenge, as there is a lack of expertise to evaluate and identify an appropriate solution.
iEval is a mature platform evaluation framework that is an outcome of Coforge's years of expertise in the integration space. The insights have resulted in a calculation-based questionnaire that clients can use to arrive at the appropriate solution that can fit into their existing technology landscape.
Our experts can help clients evaluate organizations' current technology maturity levels and identify the solutions that they need to acquire an edge over their competitors.
The principle aim of this framework is to evaluate, compare and select the right platform for integration and API management based on enterprise business requirements.
Framework has 10 core features & 100 sub-features required to meet comprehensive API Integration requirements for any enterprise
Functional Capability Weightage captures client preferences and requirements regarding API integration and management features
Platform Capability Matrix provides comprehensive ratings of industry leading integration platforms against each of the parameters
Capability mapping is done by Coforge integration experts against each of the parameters
Decision matrix with complete interpretability is available for detailed analysis and comparative evaluation of candidate platforms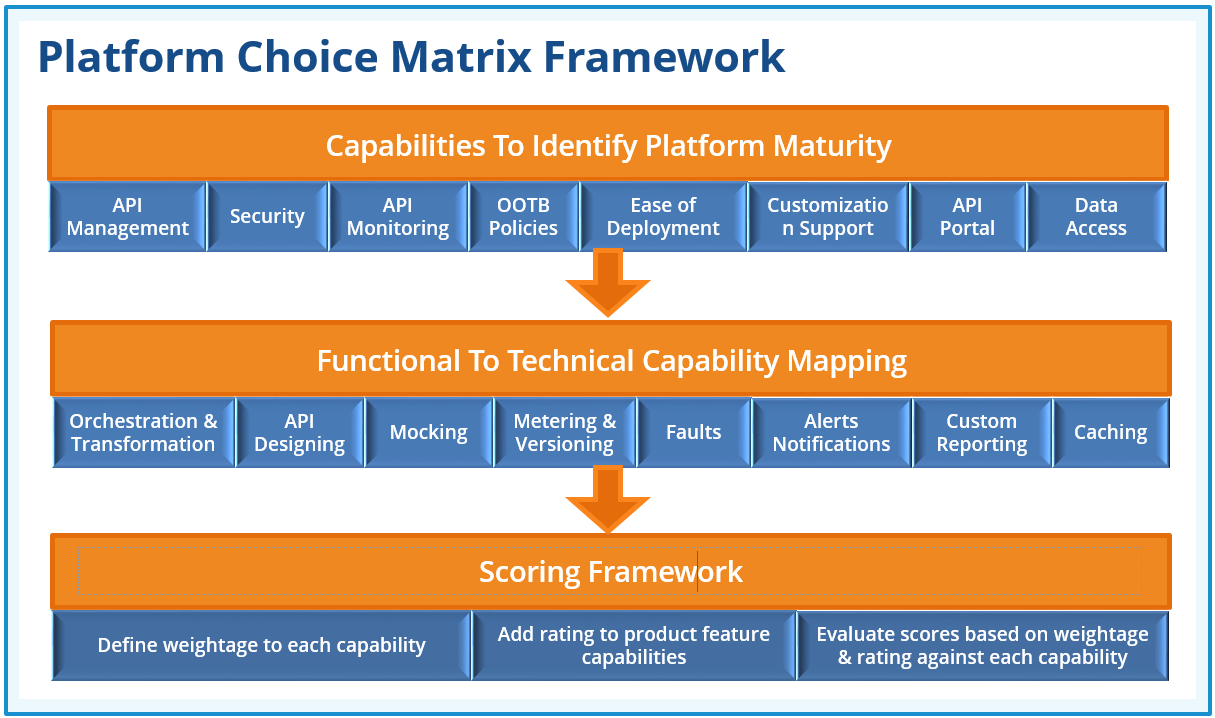 Outcome & Benefits
Helps shortlist with a deep-dive evaluation Compares the chosen API platforms options and helps shortlist for effective decision making. This comparison is a result of a deep-dive assessment of each product, backed by years of experience.
Makes precomputed scores available Years of extensive research translates in providing grade points against each feature and sub-features of API platforms. Precomputed grade points, coupled with the weightage given by clients, help arrive at the right platform.
Provides clarity Removes ambiguity in choosing the apt API platform. The calculations based on inputs and algorithms give a crystal clear view of the appropriate API platform.
Reduces Timelines, Efforts, and Costs Knowing the best API platform for client needs reduces time, efforts, and costs. Organizations can speed up the deployments and define business processes in their digital growth journey.