Personalized Wealth Advisory
Business Challenge
The wealth management industry is under pressure to increase revenue and wallet share, in a "hyper-personalized" competitive environment. Today, clients utilize digital channels even when they have a dedicated advisor and expect to get access to investment recommendations and financial advice round the clock. Self-service portals for investors is imperative, to improve the asset managers' productivity and subsequently increase the number of clients served.
Solution
The Wealth Advisory solution powered by Appian, provides hyper-personalized financial advisory by recommending the right mix of investments based on the customers' needs, risks, liabilities, and goals. The solution aims at democratizing access for retail investors to customized portfolios that reflect their personal convictions, tax circumstances, and risk tolerance. The salient features of the solution are highlighted below:
Process automation of the client lifecycle, encompassing needs analysis, risk assessment, onboarding, fund management, and offboarding
Advisor portals with Client 360 views, comprehensive fund management capabilities and dashboard insights
Customer self-service portals with intuitive UI to add and manage investments
Real-time insights on FUM, fund performance, product breakdowns etc. for the wealth advisors
Tailored fund recommendations based on wealth snapshot, risk attitude and financial goals.
AI powered investment advice for queries on portfolio diversification, impact investments, tax-managed investments etc.
Portfolio summary views and fund selection views by NAV, investment minimum, performance/YTD etc.
Benefits
Increase sales effectiveness: Increase conversion rates with personalized recommendations
Increase advisor productivity: Serve more clients and spend more time on advising clients. Real-time insights can reduce customer service costs by 20% and operations costs by 40%
Ready-to-use frameworks improve Advisors' efficiency, NPS and cost-to sell ratio
Increased customer engagement with self-service portals that allow complete control over fund management
Better user experience owing to real-time insights and intelligent assistance
Wealth Advisory Framework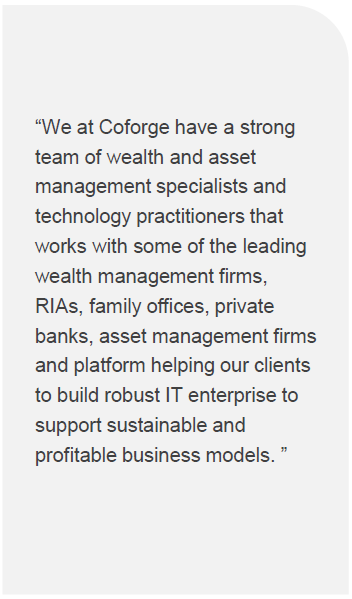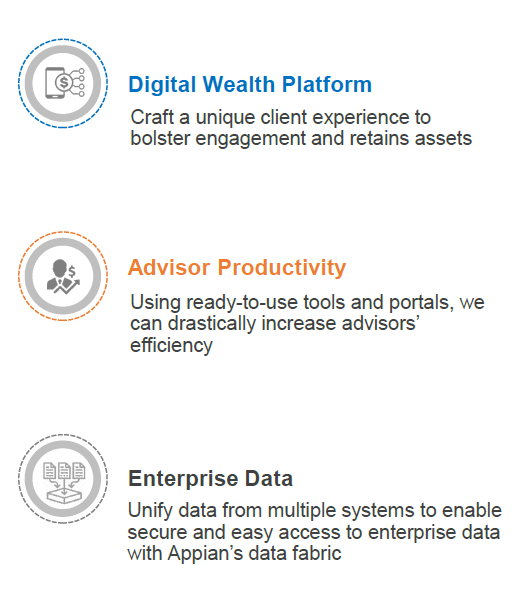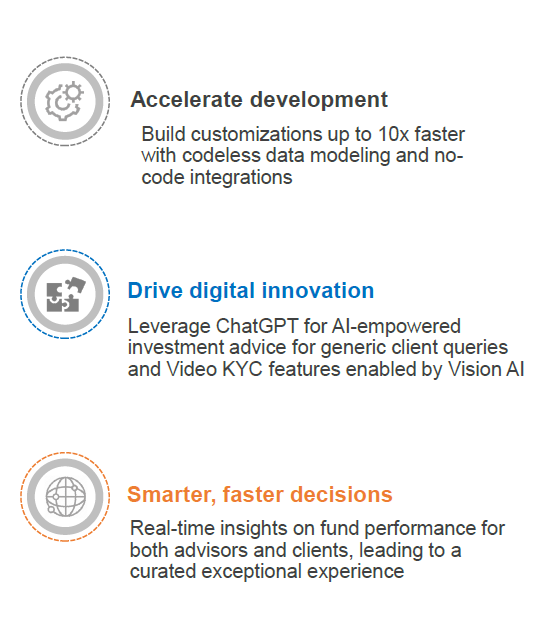 Solution Overview