Digitizing Stakeholder Onboarding
Business Challenge
Currently less than 30% of organizations provide an end to-end digital stakeholder onboarding experience
It costs five times as much to acquire a new customer than to retain an existing customer
Paper based work allocation (TIF receipt, allocation, verification)
Different sets of Q & A (TIF receipt, distribution, document verification, review & entries, break reports) based on products / services for which a customer has to be onboarded
Lack of a single system to link clients, onboarding and documents together
Lack of an automated workflow solution to process approvals
New regulations related to KYC and other risk management areas add to the complexities and changes to requirements
Fully configurable "Chatbot" to provide 24/7 support
Solution Overview
Coforge's award winning Stakeholder on-boarding solution streamlines and automates business processes through collaboration with multiple participants across the enterprise. The Solution provides:
The ability to configure:
Products and Services offered by the organization (e.g. Asset Services, M&A, Finance restructuring) across multiple lines of businesses (LOBs)
Generic characteristics that define a customer (e.g. solo customer, joint account holder, risk rating and country of residence)
Mandatory/non-mandatory requirements a customer has to satisfy based on products and services (e.g. KYC requirements, contractual and verification)
Document types that a customer is required to provide for each of the requirements
Approval processes around requirement types
Automatically determining the important characteristics of customer at the time of registration
Engaging voice and text based conversational interface"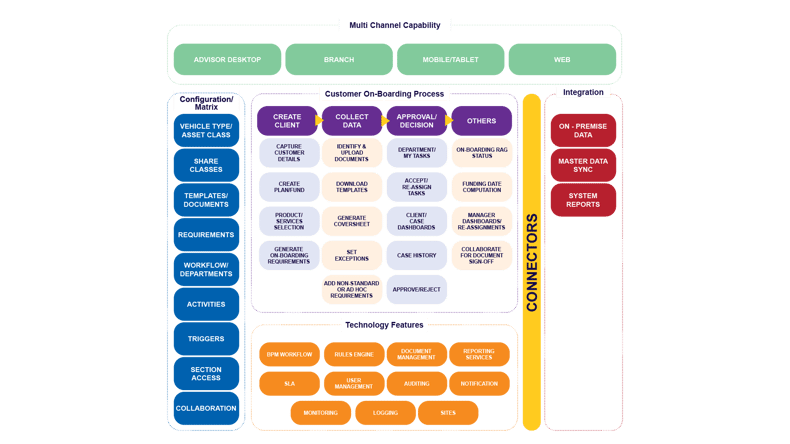 Solution Benefits
No coding required to add new products, service offerings or requirements
A new service offering can be configured and made available to the business in a matter of days instead of weeks. This significantly reduces the IT expenses corresponding to deployment and release management Automatic tracking and reporting of overdue tasks and SLAs, improving the overall onboarding process by 60%
Ability to consistently and correctly generate tasks based on products and services therefore reducing discrepancies by at least 30%
Any changes to the framework can be seamlessly rolled out on tablets, phones and other mobility platforms without the need for platform specific coding
Improves overall visibility of the on-boarding processes within the organization and increases operating efficiency by at least 20%"