With DevOps already a front runner, DevSecOps has become the new norm. Not only customers want services to simplify various areas like provisioning and managing infrastructure, deploying application code, automating software release processes, and monitoring the application but Security have always played vital role has become the integral part of any business. Security is now the shared responsibility and from here DevSecOps has emerged as a key methodology, in which security is seamlessly baked in every stage of DevOps Lifecycle. This not only ensures applications are released efficiently but also securely right from the start. It also helps address real-time security threats as and when they emerge, which are easy to fix and cost efficient.
Coforge helps client to shift from handling information security traditionally to a new mindset of DevSecOps. Coforge's DevSecOps offering enables a continuous workflow from Development-> Security->Operations by ensuring more robust and secured releases. Coforge's goal is to enable engineering teams and organizations to deploy features faster with quality and security.
TTM & early ROI.
We work with your team using constructive processes to understand your project goals, your organization's DevSecOps maturity level, and analyze the current state before setting a roadmap along with clear recommendations. Our DevSecOps solutions also uncover previously masked people-and-process communication issues to generate positive business outcomes.
Coforge's DevSecOps framework envisions to deliver a DevSecOps maturity assessment, Roadmap, and full stack of step by step DevSecOps transformation services resulting delivery efficiency, faster TTM & early ROI.
Our DevSecOps Methodology model -
Our DevSecOps capabilities are -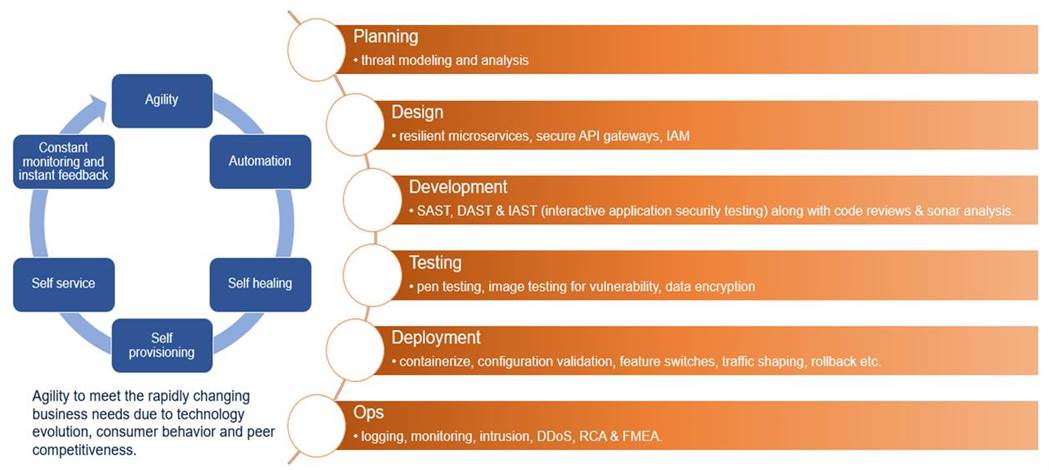 DevSecOps Maturity Assessment
Coforge have a DevOps Maturity model and assessment framework to understand the current state of customer's organization and DevOps Readiness. The maturity model and assessment focuses on three categories - People, Process and Tool. Based on the response provided by customer, scorecard is generated which helps to gain the baseline of an organization and build a roadmap for customer which focus on business benefits by DevOps Adoption and Transformation model.
Application and Infrastructure Automation: Security-Centric Approach
Automation is the crucial pillar of DevSecOps Model for Application Release Automation and focuses on automating the application release lifecycle from Build to Production by integrating security as code. It can be done through the incorporation of different tools that fully automate deployment and code promotion across all environments. This increases release velocity while reducing the risk of configuration-based errors and the number of people required to manage each deployment stage.
Coforge helps organizations address critical DevSecOps challenges to ensure clear visibility as to how and what is being deployed and where, and who changed what, keeping security at the center. Our application release automation solution is designed to orchestrate the entire release process, ensuring better resource utilization, increased speed-to-market of applications, reduced risk/threats/errors and cost of application deployment, and higher-quality releases.
DevSecOps Services
Based on our maturity assessment outcome, we define the complete roadmap of transforming an organization from traditional or DevOps to Agile DevSecOps model. We bring security in DevOps by recommending and integrating tools and processes throughout the CI/CD pipeline. Enable continuous monitoring and remediation of security threats and risks. We also foster collaboration between developers, Security, Operation and key stake holders of application by bringing in cultural shift.
OUR CREDENTIALS
The mark we've made
DevSecOps Transformations
Up to Improvement in Productivity
Heading