Cargo Claims Management
About The Solution
Cargo Claims Management System
Problem Statement – What should be the strategic claims management solution for Air Cargo industries?
Salesforce CRM is the Platform of Choice and API layer for claim's AWB number to validate from external systems. It can also be the end user facing user interface (claim status, workflow, notifications etc.).
Benefits
Easily configurable workflows as per business requirements.
This solution will be easily available for any hand held devices.
Functionality specific to Air Cargo, including legal/compliant requirements, will need some customisation, however the Salesforce.com platform allow this to be achieved rapidly without risking any upgrade path.
Systematic approach to process the claims requests.
Summarize claims progress report available for higher management.
Future Road Map
Availability of claims to customers through custom web interfaces using the Salesforce customer community feature.
Availability of multi-currency and multi-language features for global customers/end users.
Real-time/Updated currency conversion rates to suffice the need of customers globally.
Cargo Challenges – CX & Servicing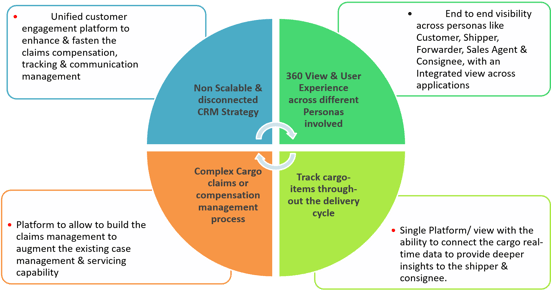 If you'd like to understand more about how we can support and enable your Salesforce/MuleSoft journey, get in touch at salesforce@coforge.com or fill out this contact form!
Why Coforge for Salesforce?
Coforge is a trusted Partner to Salesforce (MuleSoft) since 2008, delivering domain-specific, business outcome focused solutions to our Global customers. Equipped with 300+ Multi-Certified Salesforce experts having a rich mix of domain & technical knowledge, we are ready to work with your business to help you unlock the true potential of the Salesforce ecosystem, enabling your business in making the right decisions, reducing risks, and getting the maximum return on of your investment in Salesforce.
OUR CREDENTIALS
The mark we've made
Salesforce Certified Professionals
Customer Satisfaction Score