ServiceNow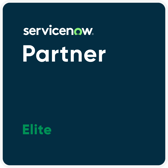 In today's digital era, business is changing its need from traditional silios environments to integrated and automated one that can help integrate and centralize business, operations, tools as well as partners. It has become critical for every organization to have an environment where all the components work seamlessly together as a unified whole.
Coforge brings to the table a blend of strong experience and expertise of both domain and technology. ServiceNow is Coforge's Strategic partner and platform of choice to deliver & manage IT services to internal as well as external customers, in-line with business goals and objectives. As one of ServiceNow's managed services Premier partners, Coforge has a dedicated ServiceNow practice & team in-place with proven track record of successful implementations and management for its customers.
Coforge maintains over 150+ ServiceNow consultants with an experience of more than 100 successful implementations across Fortune 500 customers supporting 5,000+ fulfillers with over 1 million configuration items/assets in complex environments comprising of multiple integrations.
ServiceNow Expertise

Key Differentiators