Pega DevOps Service
Business Challenge
Organizations not deriving expected ROI from existing DevOps Investments
Lack of end-to-end visibility to track, monitor & identify DevOps bottlenecks
Overall DevOps agility is reduced by inefficient Test automation strategies
Minimal automation in responding to events, post deployment
Fragmented service delivery affects the overall DevOps vision
Solution Overview
Coforge undertakes four main steps as part of the end-end DevOps service delivery. The core of this offering are the solutions which have evolved from delivery experience for large customers around the globe. Solutions include PCD for continuous delivery, CLEAR for Pega production support and TEST, for accelerated test automation for Pega applications.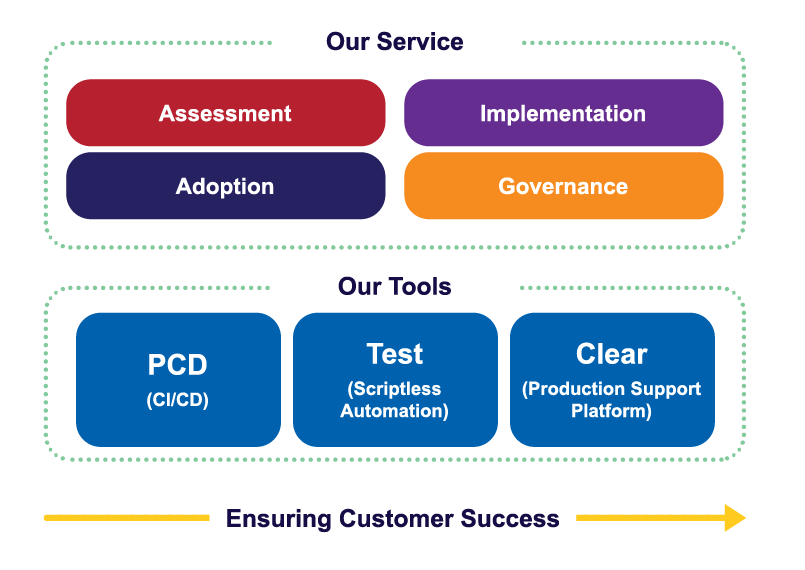 Continuous Delivery Framework for Pega Platform
Coforge's PCD solution provides a Continuous Delivery Framework enabling organizations to respond to increasing business demands by delivering regular releases with a faster time to market. The framework uses Pega 7's Case Management capabilities to orchestrate and automate the application release process. PCD has been designed to orchestrate the release process using your existing DevOps & ALM tools
Features & Business Benefits
Deploy applications with lower risk and fewer failures
End to end release governance process across multiple deployment environments
Automates quality checks and smoke testing before and after deployment
Rolls back environments based upon failed deployments or unsuccessful automation test runs
Integrates with Atlassian JIRA and CA Agile Central to keep Pega Specifications synchronized with ALM toolsets
CLEAR Production Support Platform for Pega
CLEAR is a Production Support Platform built on Pega to facilitate the collaboration between Application Support Engineers, Administrators and Business Users to deliver an exceptional quality of service to customers.
Features & Business Benefits
An out of the box set of common logging and error handling rules that can be reused across multiple applications, therefore reducing development time
Improves end-user experience during transaction failures, by providing informative error messages
Reduces the time to resolve application issues by automating log file retrieval and leveraging knowledge of similar incidents
Provides a self-healing mechanism for data fixes, that can be used to resolves thousands of failed transactions
Provides transparency and control over the production support processes
Reduces the overall application support and maintenance costs
TEST Framework for Pega Applications
Coforge's TEST framework allows organizations to accelerate their testing automation initiative for Pega applications. Based on Selenium & TestNG, TEST provides a data driven framework that has capabilities for testing authentication, role based security, portals, navigation, search, reports, dashboards and many other application related functional areas.
Features & Business Benefits
Standardize and expedite the adoption of test automation for Pega applications across the enterprise
Ability to automate Pega component based white-box testing leveraging PAL, Security Analyzer and other core Pega platform features
Pega Rule test coverage feature that checks the configuration coverage whilst running the automation test scripts
Ability to easily incorporate new test scenarios by data driven configuration
New Selenium features can be easily be taken advantage of by the framework
Testing Automation of Pega applications across multiple operating systems and web browsers
Solution Benefits
Accelerate your end-end Pega DevOps journey
Ensuring customer success with continuous engagement & governance
Can be easily plugged in to your existing Infrastructure & Governance setup
Drive DevOps adoption, awareness & ongoing training
Script less Test automation & Intelligent Production support capabilities greatly enhances your DevOps investments
KPI based monitoring helps continuously track the services provided