Cloud Security
Demand to securely run business has always been growing and today, organization's digital footprint is immensely increasing on cloud provider platforms. Such hybrid environment has opened up many opportunities for security breaches & several alarms have been raised in recent times.
It is now time for CXO level executives to revisit legacy security services and raise the bar to bring the context of the new hybrid environment.
Coforge's Cloud Security and Compliance Framework provides a holistic approach towards driving the security strategy for enterprises and cover areas like Cloud Infrastructure Protection, Governance, Risk and Compliance , Secure Landing Zone , Cloud Data protection , Cloud Infrastructure and Entitlement management , Managed Cloud Security detection & response etc.
At Coforge, we leverage Zero Trust Security approach thereby helping organizations adopt a similar mind-set, embrace industry best practices & domain guiding principles and ensure to secure organizations digital footprint right from design.
Our offerings include
Cloud Security Assessment
Cloud Security design & implementation Services
Managed Cloud Security Service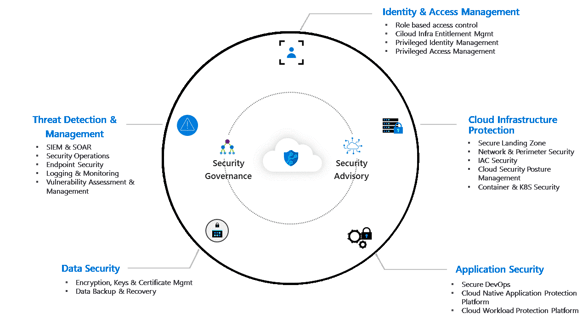 Cloud Security Framework
Why Coforge:
Zero trust aligned Cloud Security offerings
Strong alliances and Hyperscaler partnership
Deep domain expertise
Be-spoke Cloud Security solutions