SDN / SD-WAN Services
Today's digital era requires companies to launch applications for greater collaboration with customers and partners to stay competitive and they realize a greater need to implement robust network technologies that can support this dynamic workload with virtual networks services that reduce time, labor, and cost associated with buying, racking, installing, configuring and managing the network hardware. These organizations are moving towards the latest technologies like software-defined networks (SDN) and software-defined WAN (SD-WAN) within their data centers.
Coforge Software-defined network services help customers to migrate to a next-generation network technology platform based on Software-defined Network or Software-defined WAN focusing on WAN, Edge, and Datacentres. These services can help your organization meet growing expectations from a growing segment of customers who would like to access your organization's services from any place on any device in public, private, and hybrid cloud environments.
Coforge can help you achieve the cost and service delivery benefits of modernizing while maximizing the life span of your legacy infrastructure. We help your enterprise make a seamless digital transformation using the benefits of SD-WAN and SDN like
Simpler and more cost-effective branch office WANs that map to modern application and cloud architectures;
Improved network traffic path selection and manageability;
Improved provisioning times; and
The potential for enhanced branch availability and uptime.
Coforge Software-Defined is a new way forward…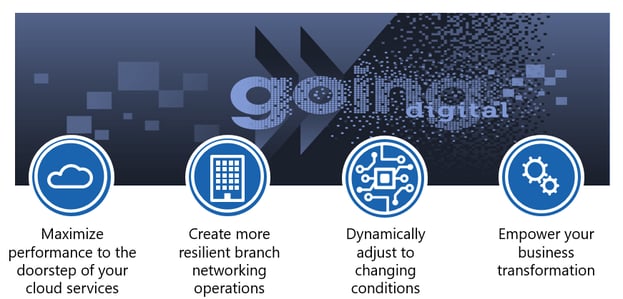 Coforge Software Defined Network /WAN key Benefits
Online Visualization Analytics and Benefits Intelligence
Automated Tunnel Creation and Traffic Load Management
Centralized Configuration Policy Management
VPN Segmentation and Application-Aware Routing
Self-Services Portal and Policy Enforcement
Network Planning Design and Analysis