MuleSoft Managed Services

We understand that recruiting, employing and managing an experienced, specialist department is difficult and expensive. With Coforge's expert MuleSoft Managed Services package our customers are able to secure revenue, increase speed of delivery, and accelerate their time to market, at an optimal cost and effort.
Coforge works with you to understand your challenges and goals, allowing us to deliver a scalable, responsive and flexible managed services model, that turns your MuleSoft vision into a reality. There is more to our MuleSoft Managed Services model than just taking things out of your hands. Our experts work closely with your in-house teams, educating and informing them to ensure greater success in the long term.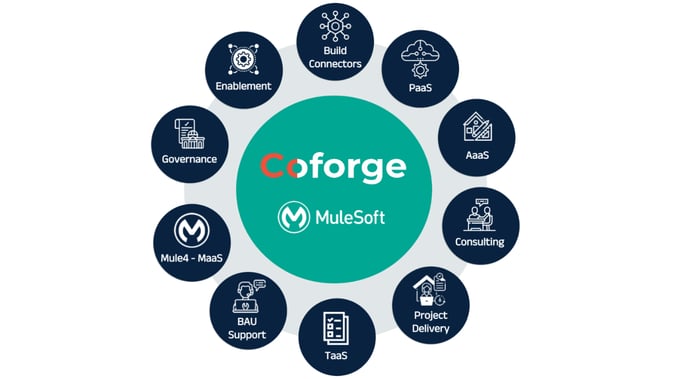 Our scalable managed services have a proven track record in the management of every aspect of MuleSoft, giving you the chance to take advantage of our resources to ensure positive outcomes and fast ROI. That's why, on top of our 360-degree managed service capability we can also offer a wide variety of benefits:
List of our MuleSoft Managed Services
Why Coforge for MuleSoft?
Coforge is a Strategic Partner to MuleSoft (the Salesforce Integration Cloud), delivering end-to-end API automation solutions to clients globally and helping them deliver seamless connected customer experiences. With 400+ MuleSoft certified professionals on board, we are an authorized reseller of the MuleSoft platform, also offering high-quality professional services. Our longevity of more than 12 years and exclusive focus on the platform have given us strength and depth across the whole lifecycle, right from license reselling, to build, through to maintenance and support.
OUR CREDENTIALS
The mark we've made
Certified MuleSoft Professionals