Mule 4 Migration

The clock is ticking, and the end of support deadline for Mule 3 (20th Mar '24) is fast approaching!
Mule 4 Migration as a Service (M4MaaS) is our tried and tested service offering that prevents Mule 3's rapidly escalating "burning platform" issue – how to stay on MuleSoft. Coforge's custom built migration accelerator is the only third-party tool approved/authorized by MuleSoft, for Mule 4 Migrations.
Our M4MaaS provides end-to-end management and implementation of your migration journey, using the standout tools Coforge has built to accelerate discovery and automate up to 90% of your migration. We reduce all manual migration efforts to their absolute minimum and then implement those for you too.
Coforge M4MaaS typical flow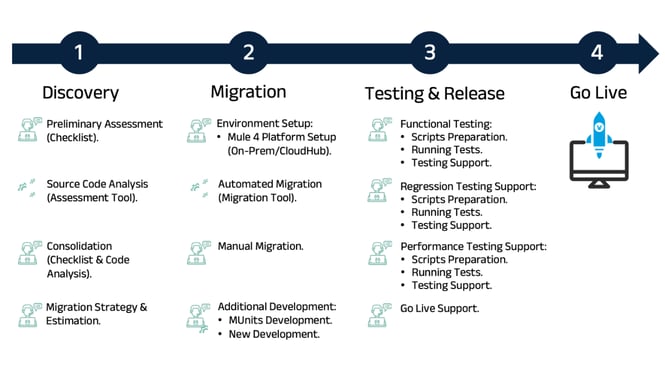 After we've completed the migration, working together with you at every stage in the project, you'll have experienced:
Up to 90% of the migration automated*
100% continued support provided throughout
60% increase in efficiency
x2 faster pace of delivery compared to internal delivery
A fixed price for the whole migration
*Using the only third-party tool approved/authorized by MuleSoft for Mule 4 Migrations
What tangible results can you expect?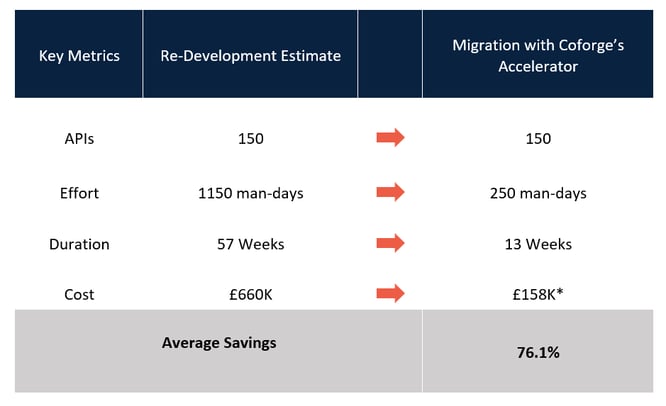 *Disclaimer: The above mentioned figures of cost/duration/effort are Coforge's estimates of time and cost needed for the development and migration of 150 APIs. This is not a price statement or a promise of cost for your project.
What should you do to start your Mule 4 Migration journey?
We understand that even the most rapid migrations can still take months, especially migrations at scale. If you've settled on migrating to Mule 4, and started thinking about the migration process, ask yourself:
Do I have enough time to take advantage of these new Mule 4 features?
Do I only have time to lift and shift the code to Mule 4?
How much of our resources will either of these need, and what will we be losing because of it?
Each day you wait, the more the answers will be made for you, and that's where Coforge comes into play. By bringing in Coforge at the outset, you'll not only be able to migrate without reducing your ability to complete other projects. It will also give you more time to take advantage of the new capabilities.
Whether you migrate from a more recent Mule 3.x version, all at once, or in phases, we have the tools and experience to get it done. Our experts in Coforge can help you get the highest possible return on your investment. The Coforge M4MaaS is based on years of successful implementation and numerous platform migrations and data integrations.
Our Mule 4 specific experience enables you to accelerate speed to value with guided best practices and automation for planning and implementation. We've seen all the roadblocks before and can help you succeed, whether we are aiding migration from scratch or taking over during a migration crisis.
Why Coforge for MuleSoft?
Coforge is a Strategic Partner to MuleSoft (the Salesforce Integration Cloud), delivering end-to-end API automation solutions to clients globally and helping them deliver seamless, connected customer experiences. With 400+ MuleSoft certified professionals on board, we're an authorized reseller of the MuleSoft platform, also offering high-quality professional services. Our longevity of more than 12 years and exclusive focus on the platform have given us strength and depth across the whole lifecycle, right from license reselling, to build, through to maintenance and support.
OUR CREDENTIALS
The mark we've made
Certified MuleSoft Professionals