Abstract
How can you differentiate your insurance business and stay ahead of the curve? The answer lies not just in developing excellent products and services, but in delivering them to the end customer through an efficient and effective distribution network. In today's digital environment, the need for developing an innovative and attractive range of multi-channel distribution techniques cannot be overstated. Going beyond traditional modes like agents and brokers, direct marketing, and kiosks, insurance providers need to gear up for the digital world and provide their products and services on new distribution channels including mobile and social media. Your organization's ability to offer and monitor a seamless, integrated multi-channel experience is the key to customer satisfaction, loyalty, and business growth.
Chasing the Sun: The Insurance Growth Story
The Indian insurance industry is going through a phenomenal growth phase and has been one of the primary drivers of the nation's economy. The life insurance sector, in particular, is evolving rapidly, embracing international standards, and best practices, and offering innovative products and services to customers. Changes in the regulatory environment have also impacted the industry positively.
India has always been a nation of 'savers' and life insurance was once purchased primarily as a tax-saving tool. However, the paradigm shift in the regulatory environment has led to more customized solutions that combine protection and long-term wealth creation. The years 2001 to 2010 saw a period of high growth with a CAGR of about 31% in new business premiums according to research firm KPMG. The number of insurance holders more than doubled to 5.32 crore policy holders in 2010, with the total life insurance premium tripling to Rs. 2.65 trillion during the same period.
The improved and personalized products and services are delivered through a range of distribution channels such as banks, agents, direct offices, and online platforms. The emergence of a more diversified and multi-channel distribution network in today's dynamic business environment has revolutionized the insurance sector, providing customers increased access to better services.
Leveraging a Comprehensive Distribution Network
While businesses continue to employ conventional ways of marketing an insurance policy, which include brokers, agents, kiosks, worksite marketing, and direct marketing, insurance providers are exploring new distribution techniques that can be exploited to their advantage.
A well strategized and effective distribution plan not only affects the top line and bottom line of a company, but also reduces operational costs by giving deep, actionable, and detailed customer insights and analysis for enhanced customer segmentation. Inefficient customer segmentation and targeting actually ends up delivering less value to the customer and increasing effort and costs for insurance companies.
By developing and leveraging an effective multi-channel distribution strategy, insurance companies can look forward to meeting customer expectations, enhancing their journey and experience, and earning customer loyalty.
Emerging Trends in Multi-Channel Distribution
Today's customer is spoilt for choice and expects the same seamless service levels across multiple channels. The meteoric growth of smartphone, social media, and the Internet has resulted in an unprecedented increase in the choice of channels that customers can use to interact with the business. To stay ahead of competition, it is critical that businesses adopt a comprehensive, multi-channel distribution strategy that brings in process excellence and drives operational efficiency.
With changing demographics of insurance buyers, insurance companies are also using multiple types of distribution systems. These systems are chosen based on the needs and status of the target customer segment. A combination of all or most of the following distribution channels contribute a multi-channel strategy:
Broker
Individual agents
Corporate agents
Micro-insurance
Bancassurance
Cell Phone/PDA
Kiosks
Internet
E-commerce
Worksite marketing
Direct marketing – Internet
Digital TV/ Satellite selling
Supermarkets and other retail outlets
Affinity channels and groups
Insurance specific debit/ credit cards
Call centers

How Customer Segmentation Impacts Business Growth
Segmentation in insurance marketing is of critical importance as it is the key to matching the customer requirements with the company's products and services. In-depth knowledge of your customers helps in creating brand loyalty as customers will be happier to purchase products specifically targeted to their needs. Importantly, customers are willing to pay more for a product that is tailored to their needs. It leads to a better customer lifecycle and enhanced retention.
Here is an example of how different sets of customers can be approach7d using different channels: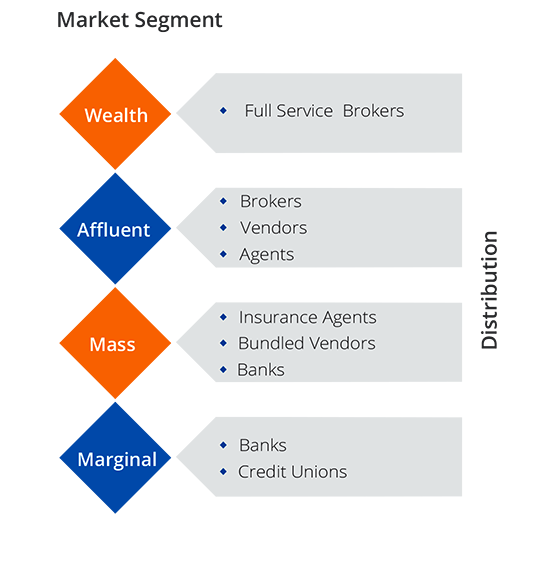 Figure 1

Want to Deliver Faster Access? Start with Benchmarking
The mission to provide digital experience on desktop browsers and websites has rapidly shifted the focus to areas where customers have the ability to move between channels without noticing major changes in user experience. Customers expect a quick response/resolution to application performance or availability issues—sometimes within minutes.
A barely working application is no longer the yardstick; rather, it is about performing to satisfy user expectations. To achieve such satisfaction levels organizations are now adopting benchmarking, hich can help prioritize areas where enhancing performance is imperative. Some of the key drivers for benchmarking include increase in mobile usage, the necessity to rank customers' digital experience, measurement of browser user experience and recognition of changes in the industry.
Leveraging Social Media as a Distribution Channel
The emergence of social media has changed the way people share information, interact with friends, family, and even businesses. Businesses today recognize that social media is essential to drive marketing initiatives, and platforms like Facebook and Twitter provide a direct line with prospective and current policy holders. As an extension, social media is also beginning to play a significant role in the distribution strategy of insurance companies.
The important element for such platforms is the status update that enables a company to be aware of the activities and intent of a large group of people without having to ask them. This can be used effectively to monitor and enhance productivity. For example, an underwriter working with 100 agents can easily monitor their achievements or updates in real time on social media platforms through tweets or updated status messages. Similarly, if any agent has concerns about a new product or program, the underwriter can proactively reach out to the agent with relevant communication.
Social media has created an irreversible shift in the way the distribution world is evolving.
The Figure 1 below lists various multi-channel choices available today.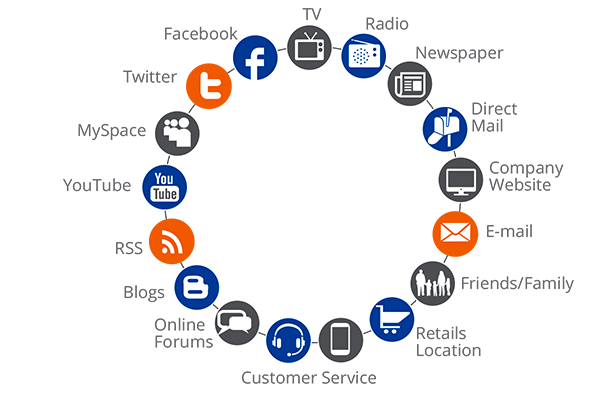 Figure 2 : Multi-Channel Options

Employing the Right Technologies
Technology is an integral part of any distribution network and its efficient employment ensures a multi-channel distribution ecosystem that is seamless and productive. There are five key technologies that support multi-channel distribution today:
Mobility: Insurance companies will adopt mobile technologies, particularly tools such as iPad for brokers and underwriters for anytime, anywhere access to data. Adoption of this technology is expected to rise in the commercial lines space.
Analytics: Leveraging analytics for micro segmentation of customers will help insurers target the most profitable customers and brokers. This will in turn increase their return on investment and help retain customers and aid in cross sell and up sell initiatives.
Social Media and Gaming: Social and gaming platforms will play an increasingly important role in influencing purchase decisions. Customers, particularly the youth, constantly communicate through social media. Insurance companies need to create the technology and service infrastructure to listen to relevant 'narrative bits' by establishing effective 'listening posts.' Social media and gaming present a great opportunity to bring a 'fun' element to the sales process. Also, gaming can help insurers improve their brand image. For example, Farmers Insurance in the US has partnered with the popular Facebook game called Farmville and lets players buy 'protection insurance' for their online 'crops.'
Collaboration: Increased collaboration between underwriters, customers, and brokers is possible through the effective use of collaborative technology. These technologies also help to personalize the conversation between the underwriter and broker and cement long-term relationships. Additionally, it also enables a reduced sales cycle.
Product Configurators: These help insurers create the building blocks for effective multi-channel infrastructure. Product configurators also help insurers launch products quickly into the market, bundle product offerings, and customize quickly based on changing market demand or competitive pressures.
Challenges Faced in Multi-Channel Distribution System
Dynamic customer behavior and market environments have forced organizations to set up a wide-ranging multi-channel distribution system to improve customer interaction and experience. Despite the best effort, setting up an effective distribution network is not without challenges. Organizations striving to deliver the right products and services to customers via the right channels at the right time are facing challenges on two main fronts:
Brand Dilution: Brand dilution can happen when insurance companies choose inappropriate channels for different customers.
Cannibalization: This occurs when one service of a brand is marketed more than the others. As a result, the market share of the latter product is negatively affected.

Using Technology as a Change Agent
The merging of the real and virtual worlds, the advent of intelligence everywhere, and the technological impact of the digital business shift has led to business disruptions like never before. An organization's ability to use technology as a transformation agent to enhance their processes and systems will be the key differentiator between success and failure. Effective deployment of technology can make multi-channel distribution more effective, productive, and profitable.
The critical tasks that comprehensive IT implementations can simplify include:
Data warehousing
Seamless access to accounts, services, and assistance online: Customers can view the premium, tenure, and other terms related to their insurance policies.
Analytics: Insurance companies can analyze customer behavior patterns, needs, and desires and get actionable insights on improving their service offerings.

The Figure 2 depicts the channel integration using information technology, which allows smooth flow of information across the different elements.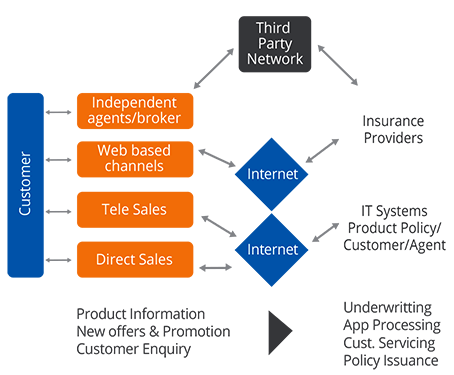 Figure 3: Role of IT in Multi-Channel Distribution
The product information, new offers and promotions, and customers' enquiry on new offers flow from the insurance company to the customer. Third-party channels such as insurance agents/brokers, web-based channels, and tele-sales executives coordinate with the customer as well as the company to get new business.
Once a case has been logged in, the entire process of underwriting, customer servicing, and policy issuance and application processing is done through complex systems that are developed as per the requirements of the insurance company. After a policy is issued, technology is used to regularly interact with customers and provide efficient after-sales service.
Multi-Channel Distribution: Delivering on the Opportunity
Coforge has evolved multi-channel distribution strategy to optimize the opportunities that social media revolution and multiple channel choice present. Our deep domain knowledge and expertise enable us to offer:
Lower Costs: Insurance companies have moved from single-channel distribution strategies to multi-channel distribution as the market evolves and competition intensifies. These changes have shown a significant decrease in the average cost of distribution services. Sophisticated, well-trained wealth management consultants target high value customers. Insurance is treated as just another financial product for others at the lower end of the customer spectrum.
Personalization: Insurance companies can work on more customized selling by adding a technical sales force for selling complex products or providing personal assistance to high net-worth individuals. The key factors here include trust, customer service, multiple and accessible service points, premium IT support, and process familiarity.
How Technology Helps Streamline Processes for the Insurance Sector
For Customers
A company's portal is the doorway and first point of contact for most customers. A comprehensive and easy-to-use website can offer a plethora of services that can be used to get information and even purchase policies online. Online tools can help customers calculate premiums, bonus amounts, tax, and also communicate with an insurance advisor through live chat. Customers can check their policy status online and calculate the amount of loan they can avail of on their insurance policy. There is also an option that allows downloading forms for purchasing other policies and paying premiums online. Customers can also update details such as change of address online.
For Channel Partners
An online portal can be developed for channel partners such as brokers and agents that gives them the freedom to check their commissions and payment status anytime, anywhere. It also allows them to check the claims position and track the status of the case deposited.
For Business
Apart from benefiting customers and channel partners, that will benefit the business directly, IT can be leveraged to streamline processes, reduce costs, and increase productivity and profitability. Insurance providers stand to benefit by:
Gaining economies of scale from a common set of data and business rules
Reducing agent-based administrative tasks to maximize sales activity
Providing analytical support to manage the producer and customer life cycle
Tracking distribution partner activity and establishing key performance metrics

Roadmap to Success
Changing customer preferences, dynamic economic environment, and rapidly growing web and mobile technology is forcing the insurance sector to rethink its distribution strategy. A multi-channel approach that has analytics at its core is essential to meet market and customer demands and retain the competitive advantage. While the insurance market offers enough scope for better penetration and accessibility through diversified channels, insurance providers have the opportunity to differentiate themselves through a seamless and effective distribution channel that delivers innovative and personalized products and services.
Incremental investments over a sustained period of time across multiple channels provide the best solution. Multi-channel distribution is a powerful tool to target new markets and customer segments, enhance customer loyalty, and increase revenues. And though the path is not without challenges, a company's ability to offer an integrated multi-channel experience will be the key to customer satisfaction and profitable growth in the long run.