Sitecore is a leading digital experience platform that allows organizations to create and manage personalized content for their customers. Sitecore provides a range of tools for content management, marketing automation, analytics, and more, making it a powerful solution for businesses looking to improve their digital presence.
Coforge specializes in Sitecore CMS. We are a Platinum, Silver Level Partner and we offer a full range of Sitecore development and consulting services to help our clients get the most out of this powerful platform. Our team of experienced Sitecore developers and consultants has extensive knowledge of the Sitecore platform, and we work closely with our clients to understand their specific needs and goals.
We have a proven track record of delivering successful Sitecore projects for our clients. We have worked with a wide range of organizations, from small businesses to large enterprises, and have helped them to achieve their digital goals. Some examples of our past projects include:
A leading online travel company wanted to improve its digital presence and streamline its content management process. Coforge worked with the company to implement an immersive and personalized experience using Sitecore. The company was able to increase its online traffic and conversions by 30%, and the improved content management process allowed them to more easily create and manage their content.


A leading

multinational conglomerate headquartered in Japan wanted to create multi-lingual sites for its subsidiary companies operating out of 13 countries. The website had to provide business self-service capabilities to advertise their products with variations in different markets.

Coforge created an effective multisite management strategy for the client and implemented it over 6 months. The organization was able to create a consistent personalized digital experience across different countries for its customers and agents and the increased engagement led to an increase in qualified leads by 25%.


Sitecore Digital Experience Practice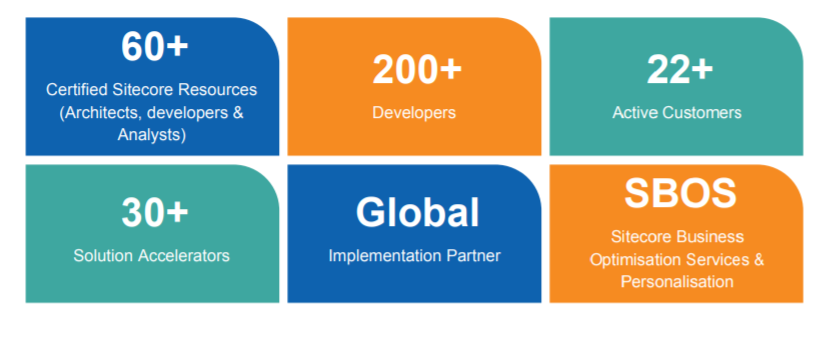 Coforge Sitecore Services
Personalization : We leverage Sitecore's personalization capabilities to create 1:1 contextual experience that drive engagement and meaningful actions across every customer touch point. With Sitecore's Experience Platform, we help brands place the right content, at the right time, in front of the right audience.
Migration : At Coforge, our team of Sitecore Architects and Developers have helped accelerate replatforming projects using innovative tools and Sitecore's best practices. We also help you plan and build migration solutions so that you can transfer data and content seamlessly from any CMS platform to Sitecore's platform with security and integrity
Integration : Integrating your existing CRM with Sitecore provides immense benefits to marketers and other key stakeholders. Rich data about customers helps your marketing team to make better decisions and optimize the campaigns to derive more conversions. Our teams have expertise in integrating marketing technologies including Microsoft Dynamics, Sales Force, Marketo, Eloqua to give you the power of a 360-degree customer view.
Optimization : Set up your contextual marketing journey by optimizing your existing website built on Sitecore's platform. Our Sitecore architects and consultants can assist your business in applying the many functions and features of the platform such as personalization, engagement values, user personas, and much more.
Support & Upgrade : Latest upgrades are exciting but pose several risks and challenges. We minimize the risks of Sitecore upgrades to your business by conducting a technology assessment of your underlying infrastructure as per the pre-requisites of latest version. We'll consult on the best upgrades for your business needs.
Digital Marketing : Our seasoned Sitecore consultants can help you take advantage of Sitecore's marketing tools such as personalization, engagement analytics, and marketing automation. We enable your business to measure which marketing activity is driving high value user engagements so that you can constantly improve your conversion rates.
Custom Development : We understand your unique business needs arising from technology advancement and evolving customer demands. Our Sitecore team brings a unique combination of deep industry acumen and rich technology experience to build customized solutions that cater to your business needs.
Experience Commerce : Our Sitecore professionals and ecommerce strategists can help you with designing and building engaging ecommerce experiences by using the power of Sitecore XC. We can personalize your ecommerce site for each customer using XC's open architecture and drive conversions using marketing automation capabilities.