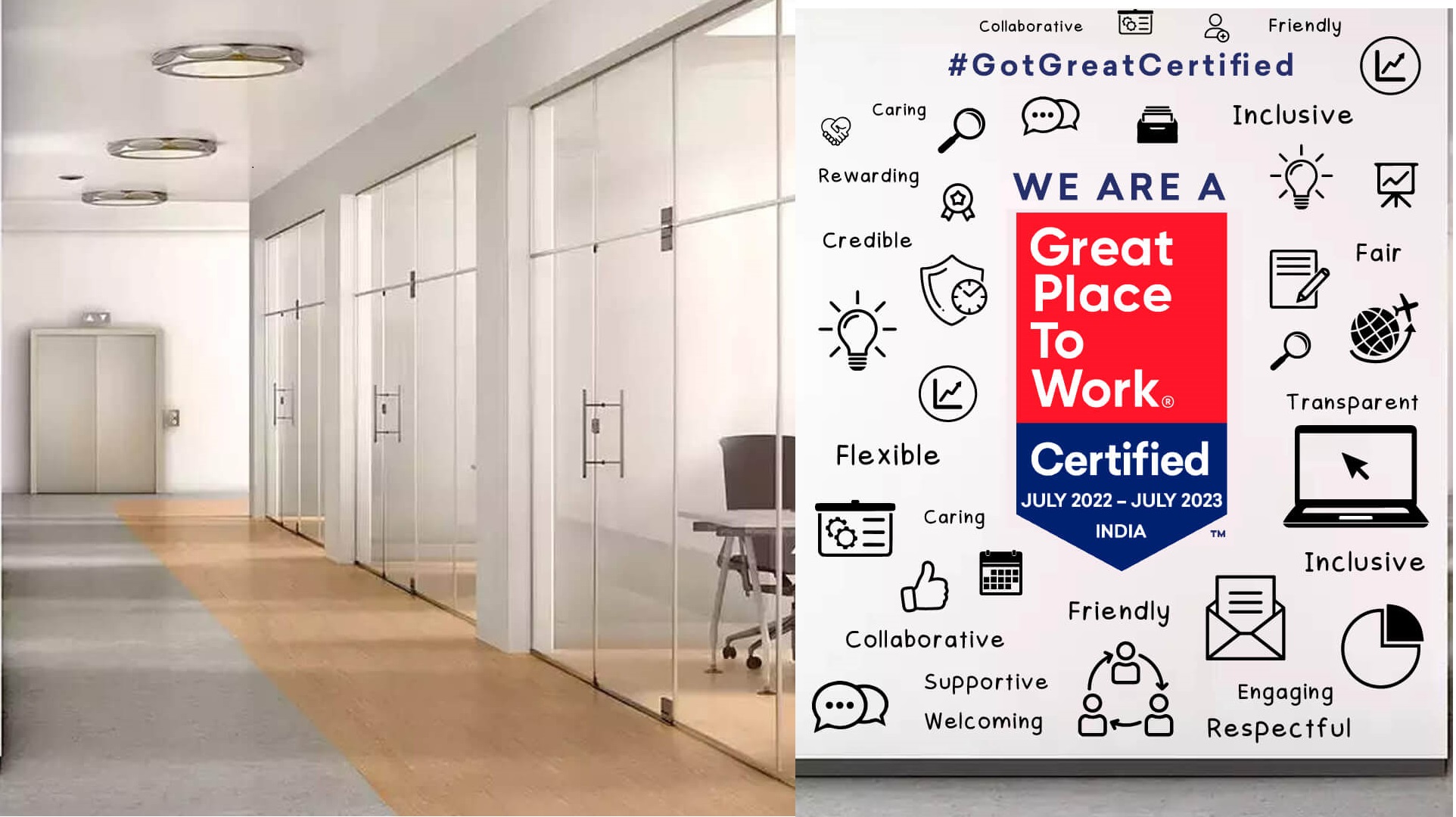 Coforge Is Now Great Place to Work-Certified™!
Coforge Is Now Great Place to Work-Certified™!
Greater Noida, July 25, 2022:Coforge Limited (NSE: COFORGE), a global digital services and solutions provider has received the prestigious Great Place to Work® Certification in India from July 2022-July 2023. This is the second consecutive year that the company has got Great Place to Work-Certified™.
The Great Place to Work® Certification is awarded to organizations that have best-in-the-class people practices and provide outstanding employee experiences. The assessment is based on the Great Place to Work® Model© devised by the Great Place to Work® Institute, which includes the Trust Index© Survey and the Cultural Audit©, with the survey requiring a minimum of 70% positive responses.
Great Place to Work® measured employee perceptions among 5000 Coforge employees using the rigorous Great Place to Work® Trust Index© Employee Survey.
Within the five core parameters of the survey, Coforge scored the highest in 'Pride', which indicates an employee's pride towards the job, team or work group, and the company. This was followed by 'Respect for People' which is indicative of how an employee feels respected by the levels of support, collaboration, and care expressed as seen through management's action. Coforge also scored very high in the dimensions of 'Credibility of Management', 'Camaraderie between People', and 'Fairness at Workplace'.
Commenting on the certification for the second consecutive year, Sudhir Singh, CEO & Executive Director, Coforge said, "Our commitment as a firm to continue to drive robust, sustained, and profitable growth in the years ahead will involve change and reinvention. The Great Place to Work® Certification is an encouraging testament to our employees' confidence in the company and its people practices. The certification also offers us actionable insights & recommendations from employees to help us create & sustain a great workplace. We shall continue to nourish our culture based on respect, inclusivity, and trust that makes us a great place to work."
Coforge has been Great Place to Work-Certified™ in India from July 2022-July 2023. #Coforge #GotGreatCertified #EngageWithTheEmerging
About Great Place to Work®
Great Place to Work® is the global authority on workplace culture. Since 1992, they have surveyed more than 100 million employees worldwide and used those deep insights to define what makes a great workplace: trust. Their employee survey platform empowers leaders with the feedback, real-time reporting, and insights they need to make strategic people decisions. The Institute serves businesses, non-profits, and government agencies in more than 60 countries and has conducted pioneering research on the characteristics of great workplaces for over three decades.
In India, the institute partners with more than 1100 organizations annually across over 22 industries to help them build High-Trust, High-Performance Cultures™ designed to deliver sustained business results. Hundreds of CEOs and CXOs from India Inc. are part of the great place community that is committed to the vision of making India a great place to work FOR ALLTM.
The Institute's research shows that great workplaces are characterized by great leadership, consistent employee experience, and sustainable financial performance. These organizations can deliver a consistent experience to all their employees irrespective of their role, gender, tenure, or level. Their leaders believe in the vision of creating and sustaining a Great Place to Work FOR ALL and role models being 'FOR ALL' Leaders.
Learn more at https://www.greatplacetowork.in/ and on LinkedIn, Twitter, Facebook, and Instagram
About Coforge
Coforge is a global digital services and solutions provider, that leverages emerging technologies and deep domain expertise to deliver real-world business impact for its clients. A focus on very select industries, a detailed understanding of the underlying processes of those industries, and partnerships with leading platforms provide us with a distinct perspective. Coforge leads with its product engineering approach and leverages Cloud, Data, Integration, and Automation technologies to transform client businesses into intelligent, high-growth enterprises. Coforge's proprietary platforms power critical business processes across its core verticals. The firm has a presence in 21 countries with 25 delivery centers across nine countries
Learn more at www.coforge.com
For further information contact:
Santanu Bhattacharya
AVP, PR & Communications, Coforge
santanu.b@coforge.com